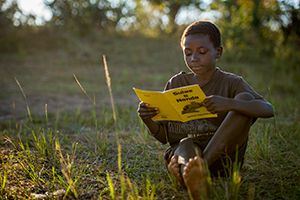 Lightwell is engrossed in reading his book
while sitting in a sun-drenched field.
(©2018 World Vision/photo by Laura Reinhardt)
What would your life be like if you never learned how to read? If these words appeared to you as unintelligible scribbles, a language you didn't understand? How would you read a prescription? Or a stop sign? For approximately 56% of elementary-aged children — 387 million around the world — this is their reality as they do not meet minimum reading proficiency standards.
Every year on Sept. 8, we recognize International Literacy Day and the critical role reading plays in daily life. Education is at the heart of sustainable development; without education, it's nearly impossible to break free from poverty.