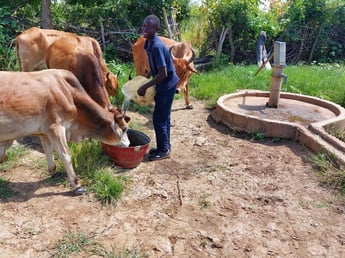 Dunford helps provide water for the cows.
"Water made it possible for me to go back to school," says 18-year-old Dunford Shimpande of Mbeza, a remote village in Southern Zambia. Dun-ford is a double orphan who lives with his 83-year-old grandfather, uncle, auntie and their 19-month-old baby. For many years, his home village has been renowned for pastoral farming. In fact, his grandfather owns more than 42 cows. Over the years, Dunford has helped herd the cows, a common expecta-tion of every young boy in his village.
"I started herding my grandfather's cattle when I was 8 years old. I would make sure that I take them for grazing in the wilderness and then later to the stream for water before going to school," he says. Unfortunately, due to unforeseen climate changes, the water in the stream dries up every summer, leaving them with no option but to go in search for water in far-off flood plains.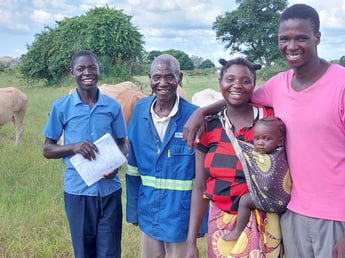 Dunford's grandfather, aunt, uncle & baby
"It takes about 12 hours to walk with the cows to the flood plains and because of the distance, it is not possible to go and come back the same day. The herders have to camp there and only come back home in the rainy season," Dunford explains. For several years Dunford and most boys in his village had to camp at the plains so that their animals could have access to water. However, this meant that while the animals were healthy, the boys had to miss school for the entire summer, equivalent to a school term. "Staying in school became a challenge because I was away for one whole term every year," he says. Dunford decided to stop school completely because it no longer made sense for him. He was always last in class and his grades left much to be desired.
A few summers ago, World Vision, through its robust Water Sanitation and Hygiene (WASH) program in Zambia, sank a well in Dunford's village. The well not only provides water for the community members, but also for the animals throughout the entire year. "I could not believe it when I heard that World Vision was coming to dig a well in our village - not until I saw the drilling trucks pulling up on site," recalls Dunford. "It's unbelievable how this well has saved us from going back to the plains. It can only be God working through World Vision," he says.
Last year, Dunford went back to school after three long years. Even though he is many grades behind the actual grade suitable for his age, he is still grateful for the opportunity to be back in school. He is determined to do whatever it takes to use it to the best of his ability.
"Thank you, World Vision! This water point has not only made it possible for me to go back to school but to stay close to my loved ones, as well," Dunford says.