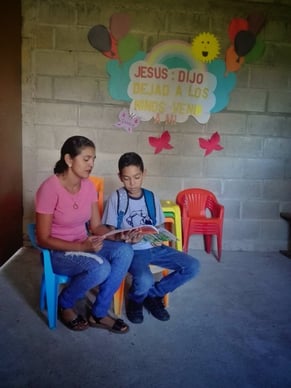 Carmen and Kevin read a Bible lesson together
¨My mother doesn't love me," eleven-year-old Kevin used to say. He is shy, but strong-willed. There was a time he would repeat this phrase to his mother Carmen Cruz, 32. Carmen remembers it was hard for her to learn how to love and show tenderness to Kevin because it wasn´t how she was brought up.
Carmen was raised by her grandparents because her mother couldn't care for her. She remembers the lack of love and affection from her mother and that´s why she tries to be there for Kevin, to break the cycle and repeat what had happened to her. Carmen recalls seasons where Kevin would rebel in school and fight against his teachers and parents.