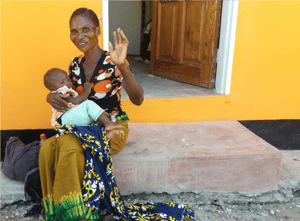 Martha became a member of her local Safe Motherhood Action Group after giving birth to eight children without any of the knowledge she now shares with her pregnant neighbors. Her lack of knowledge nearly cost Martha her life during one of her deliveries.
At 34, Martha Nvula has had eight children, the youngest just shy of a year old. She and her husband live nearly 22 miles from a facility that handles baby deliveries, which meant she took great risks each time she got pregnant.
Martha didn't understand the importance of prenatal care and planning for deliveries, and three times she gave birth along the route to the health facility—once nearly losing her life because of complications.
Martha jumped at the opportunity to join a Safe Motherhood Action Group in her village. She learned about timed and targeted counseling (ttC), which is the developing world's version of the iconic pregnancy book, "What to Expect When You're Expecting."