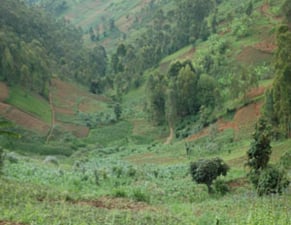 The topography of the former, unsafe water source
The Rukore region has seven villages, with three of the villages drawing water from one shared point. Before World Vision, the three villages did not have safe drinking water. Many of the school children either missed class regularly to fetch water several miles from their homes or because they were sick from drinking dirty water. Parents could not practice proper hygiene due to low water accessibility.
The majority of the people in this area live in the hills. With the water in the low plain, this created a lot of hardship for children, who do the water fetching as a home chore.