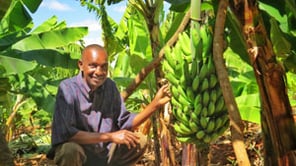 Ramadhani has increased his production of bananas, providing food and income for his family
A drive to Gidabagar village opens up into a beautiful scenery of hills and small rivers. Many farmers can be seen working in their farms this time of year as they are preparing for the next farming season that begins around November to January with short rains.
Ramadhani Doho (60) is one of those farmers preparing for the season. One difference between Ramadhani and the other farmers is that he is farming and harvesting all year round. This was not the case a few years back, because Ramadhani depended on seasonal farming of maize and pigeon peas for food and for sale.