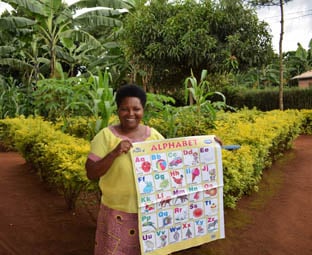 Jackie sharing a reading tool at her home
It is a lovely, sunny Thursday morning in Akagera Cluster. As we arrive at Jackie's home, we are welcomed with her joyous smile and cheer as she invites us into her house and prays for us before exchanging any other pleasantries. She is excited to host us and wants to share about her work as a Reading Camp Facilitator. Without prompting, she brings out some of the materials she uses in her class. Jackie (31) has been a facilitator in the Rukara sector for the past year.
Jackie's work involves spending time with the children and teaching them to read storybooks. She plays games and sings with the children to reinforce their learning. She also teaches the parents about the importance of literacy. She shares that there has been a huge difference among the children who participate in the reading camp.
"I have 35 children in my reading camp. When we started, many of them were very shy and timid. They could barely read, write, or express themselves. Today, almost all the children in my reading camp are confident, lively, and enjoy reading and writing. Their literacy skills are very impressive. Their letter knowledge, comprehension, vocabulary, and ability to read storybooks is amazing," says Jackie.
Jackie attributes all this progress to the work of the reading camps. She adds that many parents did not understand how beneficial this was, but today they have embraced the camps. Parents are proud of the eloquence that their children exude, which has been acquired through the reading camp sessions.
Jackie further mentions the use of the MEQA (Measuring Evidence of Quality Achieved) tool, which they currently use in this program. She said that it has helped them a great deal. "MEQA has simplified learning for us. It helps to also monitor effectiveness. It helps us to be more effective in implementing the lessons, and knowledge, and it gives guidance and feedback. We are also more focused on MEQA. I hope it can be scaled up all over the country to benefit others too," she adds.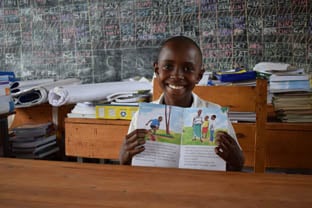 Shadia shares a favorite story while at reading camp
Shadia, who is in Primary 3, attends the reading camp sessions and loves them. "I enjoy going to the reading camp because it is fun and has taught me how to read. I love the storybooks at the reading camp. I read much better since I joined, and I am teaching my siblings how to read. I read to them storybooks, too. My grades are also much better. My parents always encourage me to go to the reading camp," she says. Shadia says that her favorite storybook is 'Crocodile and Hippo'.
Reading camps are part of World Vision's 'Unlock Literacy program. This is an innovative, evidence-based approach that aims to improve teaching methods for classroom reading and to engage students, families, and communities in reading activities outside of school.