Our Approach
World Vision's approach is founded on evidence-based, cost-effective practices that address the primary causes of mother and child death and illness.
World Vision recognizes that the ability to sustain positive behaviors is greatly influenced by the support of each individual's surroundings. Our programs work with households, communities, and health systems to:
Provide primary health and nutrition education to change behaviors at the household level, empowering parents to keep themselves and their children healthy
Build the capacity of community systems to address and monitor causes of illness, death, and malnutrition
Advocate for quality health service delivery, including partnering with national governments to strengthen health systems and ensure delivery of health and nutrition services
When we design projects, we build in local ownership because we believe there is dignity, value, and giftedness in each person. We believe transformed relationships are possible — between husbands and wives, parents and children, health workers and patients — and lead to sustainable change. Restored relationships are part of God's call to us as His followers.
Life-saving interventions
Train and equip community health workers and volunteers in the recognition, treatment, and prevention of diseases affecting mothers and children
Educate mothers about maternal and infant nutrition needs, prenatal and postnatal care, and safe birth practices so they can take control of their own well-being
Increase protection from infection and disease by ensuring babies, children, and pregnant and nursing women receive diagnosis and treatment services
Empower local faith and community leaders to become agents of change and address cultural values that impact the safety of pregnancy and childbirth
Provide therapeutic feeding for malnourished children and supplements for nursing mothers to help improve the nutritional status of children younger than 5
Provide vital resources such as vitamin supplements, medicine, and medical supplies so local health facilities have the tools they need to combat life-threatening conditions
Leveraging donated medical supplies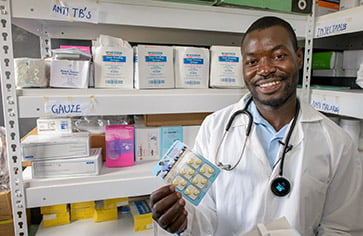 $153 million worth of medical supplies was donated by World Vision's corporate partners in 2014
World Vision strengthens existing health systems and advocates for improved services and supplies. But where gaps exist, we use donated medical supplies and equipment to augment our work, ensure delivery of quality health and nutrition services, and build the capacity of community systems to better address and monitor causes of illness.
Too often rural health clinics lack the medical supplies necessary to meet the healthcare needs of children and families. Ensuring community health workers have adequate medicines and supplies is one of the most powerful ways to reduce deaths in young children.
Our focus: Overall child well-being
We understand it is impossible to separate the health of a mother from the health of a child — a mother's health is the biggest determinant of an infant's start in life. And a child's physical and cognitive development and lifetime potential are inextricably linked to good health and nutrition from conception through the first years of life.
Our core emphasis is on pregnant women, newborns, and children younger than 5 because the greatest vulnerability lies in these groups. World Vision focuses on three essential outcomes for child well-being:
Mothers and children are well-nourished.
Mothers and children are protected from infection and disease.
Mothers and children have access to essential health services.
Measurable outcomes and improvements since 2016
In Hoima district, Uganda, World Vision's newborn and child health interventions are estimated to have reduced the infant mortality rate by nearly 27 percent between 2016 and 2018.
In Uganda, the rate of mothers who exclusively breastfed their infants increased from 67 percent before the program started to 85 percent after two years of receiving education and counseling on breastfeeding from Community Health Workers (CHWs) supported by World Vision.
In World Vision's Zambia program, exclusive breastfeeding rates increased to 90 percent after two years, surpassing the national average of 73 percent.
CHWs and World Vision staff in Uganda encourage pregnant women to give birth at health facilities with trained midwives and attendants rather than at home. After two years, the number of births attended by a skilled and trained health worker increased from 56 percent to about 85 percent.
Strengthened capacity by training 7,161 CHWs and volunteers and 723 nurses and midwives
Contributed to 88,814 babies being delivered with the assistance of a skilled birth attendant
Contributed to 66,996 pregnant women attending prenatal visits
AN INTEGRATED SOLUTION
Through decades of experience, World Vision has learned that success in fighting poverty hinges on addressing all of its contributing factors through a single, integrated response. Our investments in mother and child health support our efforts in other key areas.
CHRISTIAN DISCIPLESHIP Our Christian faith is integrated into all areas of our work. We encourage local churches and faith leaders to be key advocates for mothers and children as we tackle complex cultural, religious, and gender norms that impact their health.
GENDER Our programs promote shared decision-making and caregiving at the household level and have a special focus on increasing men's engagement in prenatal care, delivery, and caregiving to foster a strong connection with the child.
WATER Clean water and improved sanitation and hygiene reduce infections that contribute to half of child malnutrition. Leveraging our industry-leading water programs maximizes the impact we have on eliminating preventable mother and child deaths and improving health.
ECONOMIC EMPOWERMENT Leading scientists, economists, and health experts agree that improving nutrition in a child's early years is an investment that pays off. For example, children stunted by malnutrition earn 20 percent less as adults.
CHILD PROTECTION Child protection and health are both cornerstones of early childhood development. Keeping children safe and protected while ensuring they are healthy and well-nourished is fundamental for a child's survival, growth, and development.
EDUCATION We focus on the first 1,000 days of a child's life, when the right nutrition and health interventions can have life-altering implications on a child's ability to grow physically and mentally, ultimately affecting his or her ability to learn and thrive.
ADVOCACY As Christians, we believe God has called us to participate in the restoration of broken institutions. Our advocacy programs empower communities to hold their governments accountable for accessibility to and the quality of health services.
INNOVATION World Vision's commitment to developing and testing new ways to work better, more efficiently, and with a broader impact on children and communities results in game-changing improvements to tackling healthcare, such as mobile health interventions.
FRAGILE STATES We address the most challenging health threats facing the world's most vulnerable children through a comprehensive approach, which focuses on results that help children transition out of crisis and out of extreme poverty.