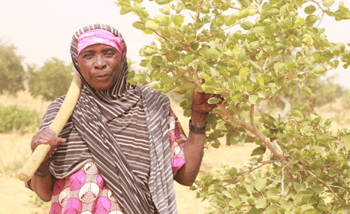 Salamatou Ilia, 65, stands next to one of 120 trees she cultivates. She plants millet, sorghum, and cowpeas between the trees. Her harvest is much bigger since she started growing trees rather than cutting them down. (©2017 World Vision/photo by Joelma Perera)
Earth Day, April 22, reminds us to treasure God's creation and to steward our natural resources wisely. Re-growing trees from their roots in deforested and degraded landscapes is one of the best ways to care for our Earth, says World Vision's Tony Rinaudo, an agronomist and natural resources expert.
In the 1980s, Tony pioneered a reforestation method in Niger that World Vision is using to help farmers become more resilient and food secure.
Following Tony's farmer-managed natural regeneration (FMNR) system, smallholder farmers learn to regrow trees from living stumps, by selecting, pruning, and managing the growing stems.
In World Vision programs, FMNR initiatives are changing farmers' lives for better in Kenya, Uganda, Rwanda, Niger, and Ethiopia — 24 countries in all. In Niger alone, more than 200 million trees have been cultivated through FMNR.