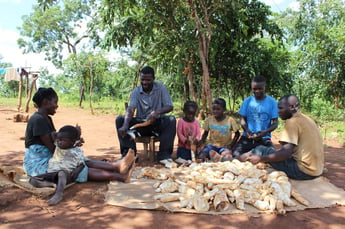 Patrick and his family work on their harvest together
In Zambia, agriculture can act as a catalyst for reducing poverty and improving nutrition. Despite that, agricultural growth remains stagnant and poverty rates in rural communities remain high. Families like Patrick Chila's have had their fair share of poverty. That is, until World Vision introduced Transforming Household Resilience in Vulnerable Environments (THRIVE) training.
Patrick, 43, says, "Our crop harvest could not last us to the next farming season. Life wasn't easy." He adds, "We could only afford to have two meals per day, lunch and dinner, and sometimes when the situation was bad, only one meal per day. Each time our harvest ran out, we would go and do casual jobs in other people's fields and get a 5kg tin of maize grain as payment. The grain would, at most, only last for two to three meals," says Patrick.
Patrick could not afford to keep his children in school due to lack of income. In turn, his second-born dropped out. Patrick says, "Easy access to health care services was equally a challenge because I could not afford a bicycle or any other means of transport. We had to walk to the clinic."
Fortunately, Patrick and his wife were selected to undergo THRIVE training through World Vision. "Some of the training we took included the Empowered World View, improved farming techniques or conservation farming and market linkages," says Patrick. A year later, Patrick was among the group of farmers that were allocated plots near the weir dam constructed by World Vision.
"Life for my family and I has never been the same since undergoing those trainings. We now think outside the box. After employing some of the farming methods, our yield has improved and it lasts us the whole year. From where we used to harvest 7 bags of 50kg bags of maize on a two lima piece of land [~1 hectare], we are now producing 30 by 50kg bags from the same portion," he happily adds. "We now not only have enough to eat but also surplus to sell. We are now able to afford our children's school fees and requirements," he says.
Patrick adds, "Our second-born has even re-enrolled back into school because we can afford to support him." Patrick is able to provide for his family and he even employs other people to work in his fields. "This year, I was even able to build a 5-room modern house for my family - we no longer live in a grass-thatched house," says Patrick. "We hope to do more and grow our farming business, make more money and save it for our children's college educations," he says.
"We are now happier than ever before, thanks to World Vision and the THRIVE project," he concludes with a smile.