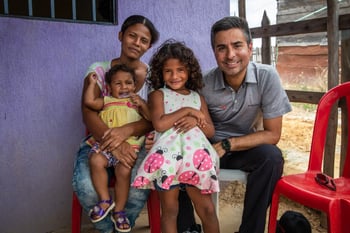 Edgar poses with Sofia, 5, center, and her mother and baby sister after hearing their story of leaving Venezuela and struggling to find stable housing in Colombia. ©2019 World Vision/photo by Chris Huber
"Growing up there (Venezuela) for most of my childhood, I lived in a country that was united and prosperous and safe. That doesn't exist anymore." Edgar Sandoval Sr., president of World Vision U.S..
Venezuela is in crisis. About 4 million Venezuelans — 5,000 per day in 2018 — have left the country seeking food, work, and a better life.
Latin America's largest migration in recent years is driven by hyperinflation, violence, and food and medicine shortages stemming from recent years of political turmoil. Once-eradicated diseases like cholera and malaria have returned, and children increasingly are dying of causes related to hunger and malnutrition.