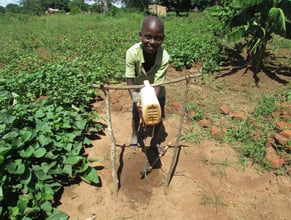 Grandson Brian at the new tippy-tap
When Florence got married in the 1980's, her new home didn't have a latrine. Though she had come from a home with one, she never asked her husband about it. For over 30 years, Florence, now 73, lived without a latrine in her home. Her family suffered a life of constant diarrhea and vomiting. The community in which they settled didn't do much to help change their mindset, as most homes also didn't have latrines.
Early last year, World Vision shared its Community-Led Total Sanitation model (CLTS), inspiring the members of Kamiga Village in the Nakasongola district to reflect on their health situation.