Our Approach
World Vision is the largest non-governmental provider of clean water in the developing world, reaching one new person with clean water every 10 seconds.
For 30 years, World Vision's work in clean water, improved sanitation, and hygiene has resulted in deep expertise and a refined approach to reaching people with clean water. Applying experience derived from decades of work, along with constantly piloting and testing technologies, allows us to continually increase efficiency and expand our reach year over year.
World Vision has more than 1,200 in-region water, sanitation, and hygiene experts among our 46,000 staff worldwide. Our teams of technical experts use cost-effective, proven approaches to co-create sustainable water, sanitation, and hygiene solutions that last. As residents of the countries where they work, they know firsthand the culture, history, and the unique water-related needs of the areas they serve.
Life-saving Interventions
Bring clean water access through right-sized equipment and use of appropriate water sources, manual drilling, and mechanized wells with solar pumps — increasing equitable access for all and improving child well-being
Install sanitation facilities and provide critical sanitation and hygiene training with the goal of eliminating open defecation and increasing access to basic, improved sanitation and hygiene for all
Train local people as mechanics to repair and maintain their water points for longer life, empowering communities to sustainably manage water systems long after World Vision's work is done
Sustainable, community-based approach
World Vision's work results in water that continues to flow in thousands of communities worldwide. An independent study conducted by one of the premier academic groups in water research, the University of North Carolina Water Institute, showed that nearly 80 percent of World Vision wells studied continued to function at high levels even after 20 years.* This significant increase above industry standard is thanks largely to our integrated community engagement model.

The core component of our model is the formation of water, sanitation, and hygiene committees who collect small fees to pay for water point repairs as needed — an approach that helps ensure communities have the knowledge and financial resources to keep their water points working smoothly. We train community members in operation and maintenance before any water infrastructure is installed.

World Vision also develops the most appropriate clean water source for each community. We use many different types of wells — shallow, tube, borehole, hand-dug, machine-dug, and deep-water — in addition to mechanized, solar, and gravity-fed distribution systems. When fresh spring water is available, we can protect and cap it to provide water to nearby communities. And we often use rainwater-harvesting systems to provide clean water at schools.

Because we invest an average of 15 years in a community, local people take ownership of the water points and are equipped to maintain and repair their water sources for long-term sustainability.
*2015 University of North Carolina Water Institute study examined 1,470 water sources in 570 communities located in the Greater Afram Plains region of Ghana, where World Vision has been providing wells since 1985.
Ramping up the pace
In September 2015, World Vision was reaching one new person with clean water every 30 seconds. We announced a plan to scale this pace up to reaching one new person with clean water every 10 seconds by 2020. With God's grace and the help of our donors and partners, we achieved this goal in just one year. With continued support, we are on pace to reach everyone, everywhere we work with clean water by 2030.
We believe the global water crisis can be solved within our lifetimes, and we're focused on providing clean water and improved sanitation to every man, woman, and child in every community where we work, especially the most vulnerable populations in the hardest-to-reach places.
Industry-leading Partnerships
World Vision recognizes that these visionary achievements cannot be accomplished alone. We are privileged to partner with individual donors, foundations, corporations, national and local governments, and nongovernmental organizations to accomplish this life-saving work.
These strategic partnerships enable us to build technical expertise, implement innovations, and collaborate to increase our effectiveness.
Partnership highlight: Sesame Workshop and Raya
A new friend from Sesame Street™ is partnering with World Vision to spread the word about the importance of proper sanitation. Along with her friend, Elmo, Raya is teaching children around the world about healthy hygiene and sanitation behaviors that can dramatically improve the health of children and their families. Read more.
Reaching Schools with Clean Water
World Vision reaches more than 200,000 school children every year with water, sanitation, and hygiene interventions, which increase school attendance and overall child health.
Constructing safe water points on school campuses or in the immediate vicinity
Ensuring facilities are equally accessible to children with disabilities
Building gender-segregated, institutional latrines and hand-washing facilities with soap for both schoolchildren and teachers
Impacting Women and Girls
In much of the developing world, women and girls bear the burden of collecting water for their families. They must often walk for miles in search of dirty water that may be contaminated. This time-consuming chore not only increases the vulnerability of women and girls to violence, but also prevents them from attending school, impedes the ability of mothers to care for their children, and takes away the opportunity to earn an income.
On average, World Vision drills, builds, or rehabilitates thousands of water points every year that provide women and girls with a reliable source of clean water near their homes. We also incorporate a menstrual hygiene management component for older female students to educate them about women's health and enable menstrual hygiene care.
Forbes ranks World Vision's Water program as one of the best investments if you want to change the world.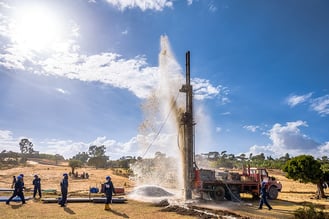 Longtime World Vision partners, Dave and Dana Dornsife, are the primary focus of a comprehensive review of all the recent big bets in philanthropy in the December 2017 issue of Forbes. A panel of 10 independent judges was convened by Forbes and the Bridgespan Group to evaluate nearly 60 gifts of $25 million or more. The Dornsifes recent $40 million investment into World Vision's Water, Sanitation, and Hygiene Program ranked in the Top 5. The article highlights their trust in World Vision and explains how their bet excelled in each of the six criteria used by the panel to determine the investment most likely to have the highest social impact and move the needle in changing the world.

Read the article
Download the handout