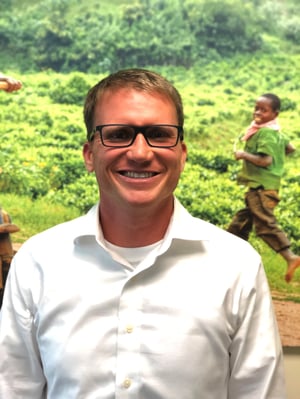 National Director, World Vision Rwanda
Thunderbird School of Global Management ('05)

"Careers don't take straight lines.
Be patient with the twists and turns in your career."
— Sean Kerrigan

For Sean Kerrigan ('05), the path to becoming the National Director for World Vision Rwanda has been one of twists, turns, humility, patience, and persistent optimism. He grew up on the edge of the Amazon jungle in Shell, Ecuador where his father was the only surgeon in the Eastern half of the country and his mother was a nurse. He describes a "wonderful childhood", running around the jungle with his 4 brothers and keeping monkeys and parrots as pets. From Ecuador, his family moved to Kenya where he completed his secondary school education and then eventually came to the United States for his degree in Chemical Engineering at Georgia Institute of Technology ('00).