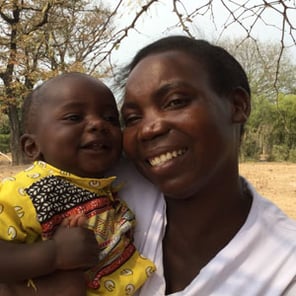 Teresa with her last born son
While health facilities play a critical role in preventing stillbirths and improving new born survival, most women in some rural, isolated communities in Zambia were, until recently, subjected to unsanitary environments while giving birth at these clinics.
"I dreaded giving birth from the clinic because of what I went through when giving birth to my first three children," says 35-year-old Teresa Siambulato of Mweemba Village in southern Zambia.
Teresa is a happily married mother of four handsome boys, whose ages range between 10 months and 10 years. She adores children and always looked forward to giving birth to her own at the Kayuni Rural Health Center—the only health facility in her village.