If you are one of the 689 million people living in extreme poverty, you most likely live in a rural area in a developing country. If you're a woman living here, the burden of poverty falls heaviest on you and your children. And COVID-19? It's had an especially lingering and devastating impact on you.
In fact, the pandemic has pushed an estimated 97 million people back into extreme poverty. For the most vulnerable, this means they're forced to use what remaining cash savings they have to buy basic essentials. But you can empower women to thrive — helping them with a gift to the Investing in Women Fund that will multiply 2.3 times in impact!
In Malawi, COVID-19 has eroded the savings of hardworking women entrepreneurs like Chrissy and those in her savings and loans group. These groups are a smart and simple way for members to learn financial basics as they convert small amounts of cash into savings that can then be loaned to other members as credit.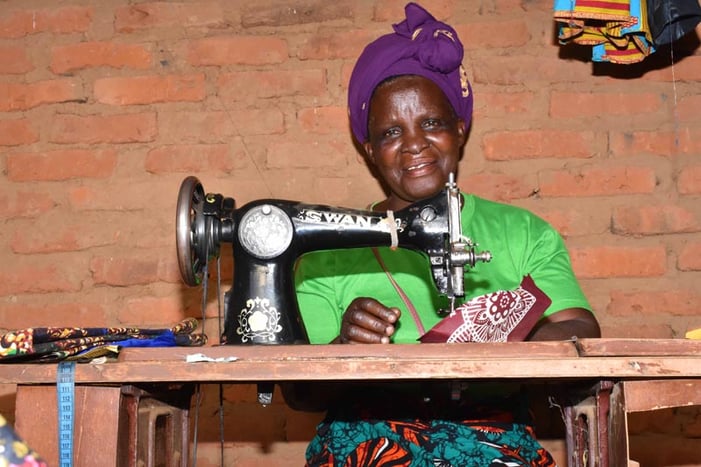 A woman in Malawi makes a living by working on her sewing machine.
COVID-19 caused unforeseen troubles for everyone. "Our businesses performed poorly as international borders closed abruptly," explains Chrissy. "We rely on neighboring countries of Zambia and Mozambique to do cross-border trade, so we could not do business."
Many members of Chrissy's group found their businesses on the brink of closing. They'd lost too much capital from the unforeseen impacts of COVID-19. Thankfully, Chrissy's savings group received a loan through World Vision, and their businesses came back to life.
Many small businesses have borne the brunt of COVID-19's impact
People who rely on savings groups for capital were the hardest hit. Another savings group member in Malawi, Oliveta, shared that her family was forced to scale down to two meals a day.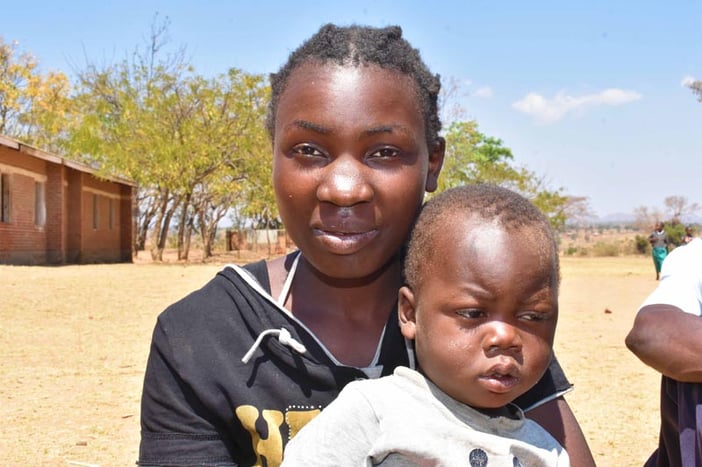 A woman in Malawi had to choose between the expenses of feeding her family and operating her business.
"I have resorted to skipping breakfast to cut on food expenses and save a little money for the business," says Oliveta.
Once they're back up and running, savings groups' profits can then be used to support members' children at school, increase people's business capital, or allow members to purchase livestock or other assets. These groups also mentor each other and share business ideas. And it's their own money. Everyone has skin in the game, so there's a lot of accountability.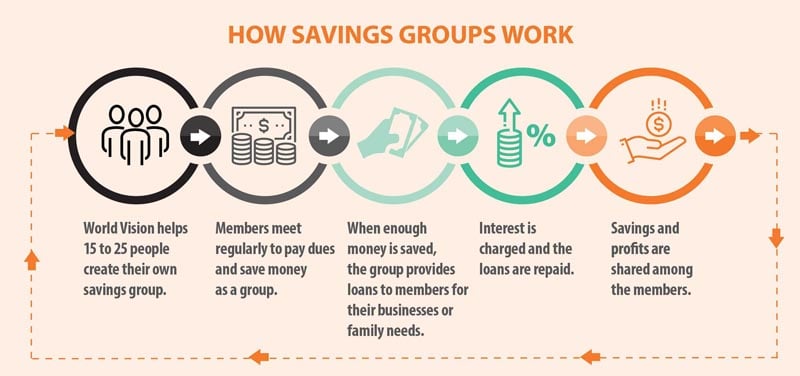 Savings groups changing lives in every corner of our world
For Daw in Myanmar, life had been a struggle with three children to support, including one with special needs. Her family relied on loans to just get by.
But when World Vision introduced savings groups in the area, Daw and her family were able to start saving toward another family business. Within just one year, they saved enough money to breed five pigs, and then they sold six piglets. They were able to pay off their debts and even tithe some of their earnings to the local church.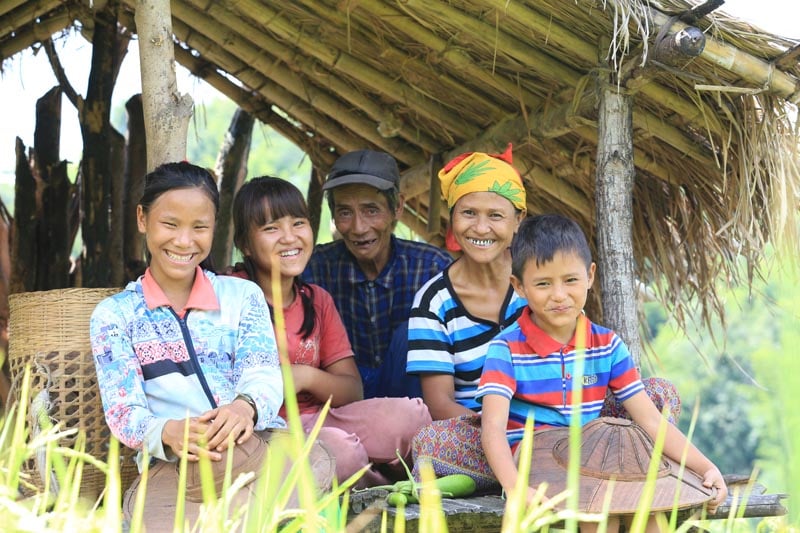 A family of five, in a hut in rural Myanmar, has been empowered financially through World Vision savings groups.
Today, Daw (in yellow scarf) and her family are thriving, "Every day we really enjoy looking out at the green paddy and enjoy eating fresh vegetables from our farm."
Daw's is one of many stories you can be a part of when you give to the Investing in Women Fund.
For Jane in Zambia, the good part of the story couldn't come soon enough. "Life was not easy," says Jane. "We could not afford to have three meals in a day and the most painful thing was to see my children being told to go back home from school because their school fees were not paid."
That all changed when World Vision introduced a savings group where Jane lives. Seeing the improved livelihoods among other women, Jane decided to join. Soon, her only regret was not joining earlier. After receiving training and joining a savings group, she can now save money and run a successful business that generates income for her family. Her dream is to see all women empowered like she's been.
"My encouragement to other women is that they must know they are capable of doing anything they put their mind to," says Jane. "We only need to be supportive of each other because together we can do more than what we can do individually."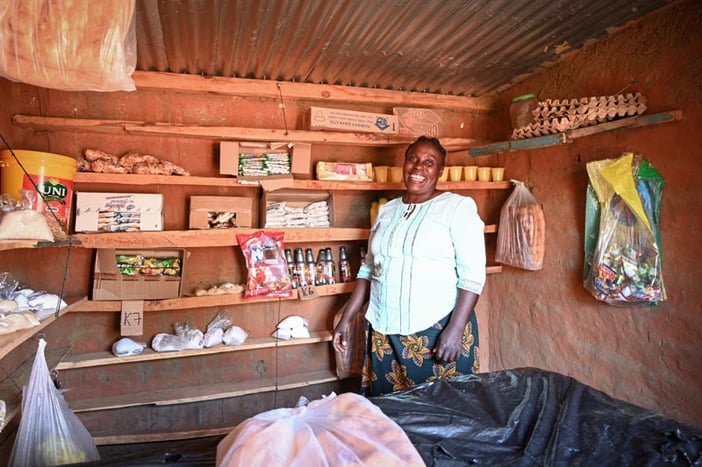 A woman in Zambia stands inside of her small shop, a venture made possible by her hard work as a savings group member.
"I celebrate every woman," says Jane. "I work very hard so that I can bring change in my community and lead as an example to the upcoming generation."
With this exciting progress right in front of us, would you prayerfully consider supporting the Investing in Women Fund? You'll help moms in rural areas to restart and grow their businesses … and to reach their God-given potential.
Here's some math you'll love. Thanks to investments in capital markets, your gift today will multiply 2.3 times in impact to help provide loans to savings groups. On average, World Vision provides a first loan of $800 to a savings group that has around 22 members, 80% of whom are women!
Here's what 2.3 times looks like:
$100 becomes $230 in impact to help provide loans to six members of a savings group
$200 becomes $460 in impact to help provide loans to 12 members of a savings group
$500 becomes $1,150 in impact to help provide loans to 31 members of a savings group
Your generosity will truly be a blessing and have a life-changing impact on even more women like Chrissy, Daw, and Jane!