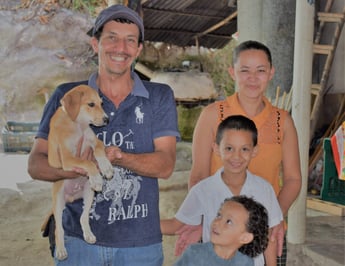 Mr.Cibrian holds Oso for a family photo as little Christian watches his pup.
Busy roads are dangerous, and when children need to cross the street to collect water, it makes it even worse. This is what Mr. Cibrian and more than 20 families experienced before World Vision came to the community of Shioras in Honduras.
His children Christian (5) and Miguel Angel (9) greet us at the porch. As we say hi to the family's youngest member "Oso", he happily wags his tail to show his excitement. His wife Rosa invites us in and kindly hands us a delicious fruit.
Their home is along the busy highway. This neighborhood used to have a rudimentary water system (well) that provided minimal water services for some families, but not enough for the whole community. During the summer when water was scarce, residents would stay late into the night to collect whatever they could. Others bought water from the closest town, but it was costly and burdensome to bring the water back to their homes. Mr. Cibrian lived a life of fear, praying for water and for safety for his family and his neighborhood.
The municipality started road construction that damaged the well and limited the families access to clean water. During the construction, Covid 19 arrived, and the government declared a lockdown. This included restrictions and daily curfews that limited access to water. "It became a daily burden to find water to bathe, cook, and wash clothes," says Mrs. Rosa.
As part of World Vision's emergency response to Covid 19 and the hurricanes ETA and IOTA, a World Vision representative shared that a new water project was being planned that would include a water connection directly to their house. Mr. Cibrian was excited to learn that safe water would be coming to his neighborhood, and he volunteered to dig trenches for the system's pipes. He also recruited his neighbors and they organized in teams to help in the construction of the water project. World Vision provided bio security kits and they worked in groups of three due to the Covid 19 restrictions. World Vision helped supply the materials, engineers, and contractors to complete the project, but the community helped with manual labor. Mr. Cibrian was eager to show us a video on his cellphone of his neighbors working together. "Many people think that accomplishing a project like this is easy when in reality, it is very difficult," says Mr. Cibrian.
The neighborhood has experienced huge changes. People are more relaxed because they're not fighting for water, or worried about an accident on the highway. Kids are happier, healthier, and miss less school. And having abundant water allows community members to cook healthy food.
"Look at the running water!" said little Miguel Angel as he points to his dad's cellphone. As we watched the video, Mr. Cibrian's eyes reflect his joy. "You have to fight to make things happen until you see a change," Mr. Cibrian says, as he hugs his little ones, including Oso.