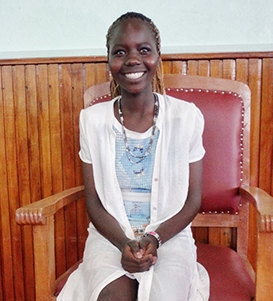 Marcellina is a 16-year-old, grade 10 student at St Joseph Chepterit Girls High School and marvels when she considers how fast life has changed in just three years. She now epitomizes the future of a changed society.
"I grew up in a patriarchal culture that emphasized more on conformity to the norms and practices of the community. Whereas this culture has some positive aspects, a lot of it is negative," Marcellina shares. "These harmful negative cultural vices such as FGM (Female Genital Mutilation) and child marriages are so institutionalized and no one dares speak against them."
Marcellina recalls being a grade 7 pupil at Ortum Girls Primary, when her head teacher selected her to represent the school in the first ever County Children's Assembly.