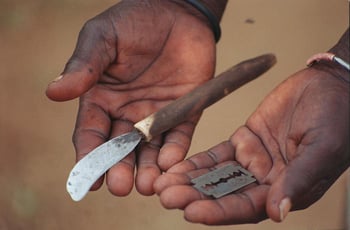 After 20 years, a circumciser in Kenya laid down her tools—a knife and a razor blade. World Vision helps girls, boys, and communities to stand against the dangerous, damaging practice of Female Genital Mutilation or Cutting. (©2000 World Vision/photo by Winnie Ogana)
Each year, more than 3 million girls are at risk of Female Genital Mutilation or Cutting (FGM/C). February 6, the United Nations' International Day of Zero Tolerance for Female Genital Mutilation, is a time to bring this serious issue to light.
Girls' rights are violated and their potential crushed when they are subjected to FGM/C and have their external genitalia cut. Best estimates are that 200 million women and girls alive today have suffered FGM/C. There is no medical reason for this traditional practice, and no benefit for the girl. Girls who have been cut often experience life-long dire effects, such as pain, infections, bleeding, difficult childbirth, and incontinence.