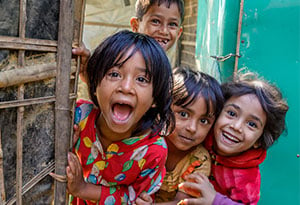 Like children everywhere, Rohingya children in a Bangladesh refugee camp find joy playing together. Of the nearly 1 million refugees living in the camps, 55% are children. Despite difficult conditions, they can come together daily at World Vision's Child-Friendly Spaces to have fun and learn. (©2019 World Vision/photo by Jon Warren)
Every day of the year, World Vision works around the world to meet the needs of refugees. On June 20, World Refugee Day, we highlight the plight of the 68.5 million people who have been forcibly displaced from their homes and the innovative ways we help them cope. Running from violence in Syria, Myanmar, South Sudan, Afghanistan, Democratic Republic of the Congo, Venezuela, and other countries, refugees seek a new life of safety. More than half of the world's refugees are children.
Since August 2017, about 700,000 people from the Rohingya ethnic group have fled Myanmar and joined 200,000 Rohingya already taking refuge in Bangladesh, according to the U.N. refugee agency. Through its response to the crisis, World Vision is investing in a better life today and a better future for Myanmar's refugees, especially children.