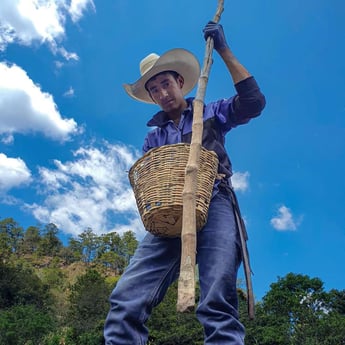 Juan Cortez loosens the soil with a stick in preparation for planting.
The sun beats against the land where two young men are practicing a new technique of farming. The air is hot in the community of Belen, La Campa here in Honduras. A group of eight young men have joined together in a THRIVE (Transformed Household Resilience in Vulnerable Environments) farming school to learn new agricultural techniques from the best mentor in town, Mr. Felipe Benitez. Mr. Felipe has taken this new class of farmers under his wing. They are the youngest farmers in the community.
This class of farmers includes the cousins of Juan, Dioniso and Oscar who we met on our last visit. Just like their cousins, Jester (18) and Juan (21) Cortez , have seen how producers in the community have grown because of the support of the World Vision THRIVE project. The first group of producers that Mr. Felipe trained have now diversified their crops and are selling to bigger markets.
This wasn't always the case in La Campa community. Before World Vision entered the community there was no irrigation system and a lot of producers could not support their families. Many left the community and never looked back. Mothers used to be stressed because their children where malnourished. Jester recalls, "Before World Vision, there was no job opportunity here in the community. Some of my cousins decided to leave to bigger cities and look for better opportunities." Due to the lack of water, traditional crops like corn, beans and coffee where only harvested during the rainy season.
"A couple of years back everything began to change for the better thanks to World Vision," Juan recalls. Juan saw how his cousins, the Cortez brothers, had joined a previous THRIVE farm school that Mr. Felipe Benitez was leading. Juan and Jester's cousins had made a considerable improvement in their own crops by diversifying them. They've escalated their production and are now making a better income than before. That motivated Juan and Jester to join the new generation of farmers in their community. "I am learning better farming techniques because you can never count on only education to earn an income. Learning this new agricultural skill will allow me to be an independent farmer on my own plot of land and have more diversified crops," says Juan. With THRIVE training, these young men are learning how to make soil beds, irrigate correctly, use correct pesticides, and adapt to climate change. They now have access to better markets and can dream even bigger.
"Now my dream is to be my own boss and be able to help my mother and someday support my own family," Jester says. World Vision THRIVE project is giving them hands-on training to learn how to run a business, how to save and invest in their own crops. Thanks to the World Vision THRIVE project, young farmers like Jester and Juan have new job opportunities.