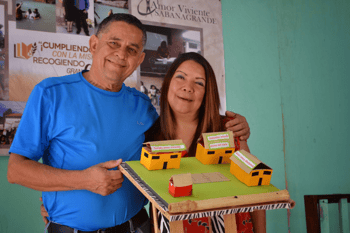 Pastors Roman and Fanny prepare a lesson
Sabanagrande is a small town located in the south region of Honduras. The people who live there are hard-working people. They are grateful that God's love is present in their community. Roman Bueso and his wife Fanny Zambrano have been living in Sabanagrande for more than 20 years. They both serve as pastors at the Amor Viviente Church, which translated means, 'living love church'. "Teaching Gods love to the youth and kids has brought peace to each person in the community," says Pastor Roman.
A few years ago, things were different in the community. Violence and bullying surrounded the school environments, gangs and other groups started to organize in the neighborhoods, recruiting vulnerable teenagers who didn't find love or acceptance at home. "We use to live in Tegucigalpa. But I felt in my heart, a call from God to move into this community. Because with His help, we knew that we could change lives," Pastor Roman remembers. He decided to serve God and become a pastor when he was 35 years old.