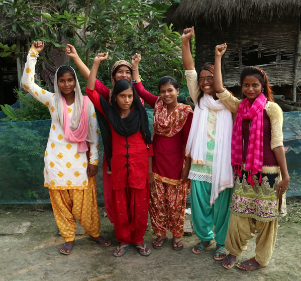 One of Basanti's Girl Power Groups
"As a neighbor, I saw the wedding related activities and got suspicious," says Rojina, a 16-year-old from a village in Basanti. She knew Ajmira from school and was concerned when she saw the planning going on at her home.
Ajmira confirmed her suspicions when they met in school. "My parents are forcing me to get married," Ajmira told Rojina. Ajmira is only fourteen. This plunged Rojina into sadness. What was she to do? "Before World Vision, I did not know child marriage was wrong. But now I know, and I found out my neighbor was getting married," says Rojina.
Rojina decided to confide in her best friend Regina, 17. Both girls are part of World Vision's Girl Power group, which teaches girls to keep themselves and their friends safe. Regina says, "If we go directly, they won't listen to us and they will scold us. They might even take their daughter somewhere and get her married in secret. Being a child and we are girls...will they listen to us?" This way of thinking percolates from the elders in the community to the children. A girl child is low in the "pecking order" - girls are rarely allowed to express their own thoughts or feelings, and they are not taught to speak with confidence in public settings. These cultural pressures create an environment where girls fear telling the truth or seeking help from adults. They feel helpless when they, or their friends, experience abuse through child marriage, rape or physical violence.