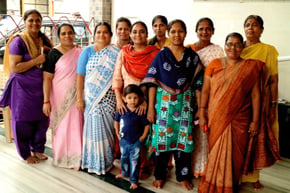 The women of various Self Help Groups
Dharavi is Asia's second largest slum. It is a very congested place with narrow lanes and hordes of people. They compete with motor vehicles and push carts to get in or get out of the slum. One such lane has a church on it. Pastor Virendra has been running this small church for the past three years. The church is called 'Rehoboth'. He started with 40 members, and has now grown to 100 members. Most of the members are from the Kholi community, who are traditional fishermen.
Virendra saw many things in Dharavi which he thought were important issues that women face.