Why it matters
Children and youth cannot truly experience life in all its fullness unless they have the opportunity to know Jesus by being nurtured in caring churches and loving families guided by biblical principles. Churches around the world simply don't have the resources to provide opportunities for youth like we do in the United States.
World Vision partners closely with local churches worldwide to strengthen their reach and impact for Jesus. But in many communities, resources are so limited that churches are unable to support children's spiritual growth in ways girls and boys can relate to and understand, such as Vacation Bible Schools or youth-focused activities.
When struggling to make ends meet, buying a Bible is often out of reach, so children and adults rely on teachings from local church leaders to guide their faith. They have no opportunity to study God's Word for themselves and deepen their understanding of how to live Christ-like lives. Many ministry leaders don't even have their own Bible to use for study or preaching.
With your help, we can provide Bibles and help churches strengthen their ministry programs. By equipping local churches to better reflect Christ's light in their communities, children and youth will experience the richness of God's love and develop hope and resilience in challenging circumstances.
Our Approach
Nurturing children's spiritual growth is not a linear process, but rather cyclical, with children progressively deepening their understanding and faith. Our Christian formation program models guide children through the following key steps as they learn about God and incorporate their understanding into their own lives.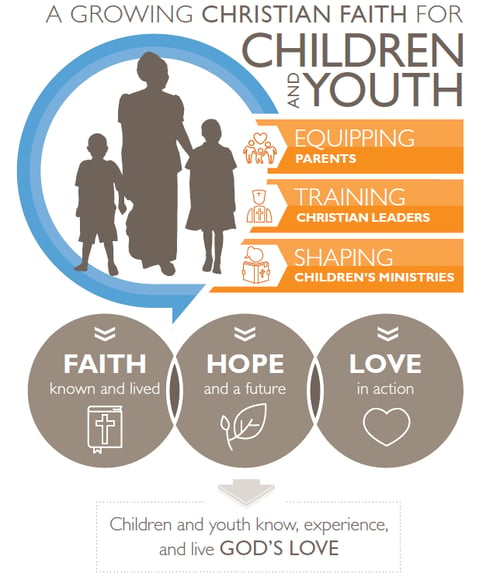 Based on this framework, projects incorporate program models that directly help children experience God and that train influential adults in their lives to guide their biblical understanding. We place a special emphasis on program models that focus on parents and caregivers, recognizing their central role in nurturing their children's development — spiritual, physical, and emotional.
Long-Term Impact
During the last half of FY19, a midterm evaluation was conducted to assess the long-term impact the Christian Discipleship Project has had during its initial three years in helping children and youth grow in their faith.
Knowledge of God: The evaluation showed significant increases in children and youths' awareness and experience of God in their lives. This included Sunday school attendance, learning about God in school, and children talking about God daily and in their homes.
Demonstrating God's presence in their lives: Both children and adolescents showed improvement in how they experience God's presence in their lives through regular prayer, knowledge of Bible verses, and being able to describe and demonstrate love in their families and among peers in school.
Change in attitudes of adolescents: Youth (ages 12 through 18) expressed stronger feelings of connection and caring with their parents/ caregivers as a result of the project's emphasis on family relationships. More youth rated themselves as "thriving" against a set of criteria on their skills in making good decisions about their lives.
Church leaders caring for children: The evaluation also showed a significant increase (from 23% to 44%) in Christian leaders who are actively promoting activities through their churches and in their communities to ensure children are cared for physically and emotionally as well as spiritually.
Overall, the evaluation noted that the impact of the project is so positive that churches' requests to participate are outstripping World Vision's ability to provide all the training requested. A challenge identified is that in some cases, the project's focus on Christian education is resulting in Muslim community members feeling excluded.
The evaluation's results will play a key role in planning the project's final two years of activities, building on the successes and addressing challenges.
God's equal love for all his children
When children feel valued for who God has created them to be, they are better able to care for others, fully contribute to the kingdom, and envision a brighter future for themselves and their community.
In a focus group discussion facilitated by World Vision, children identified that their faith is expressed primarily in the relationships they have with others. Parents and other influential adults therefore play an integral role in how children perceive and understand God's character.
When children are nurtured, loved, and treated with equal dignity, justice, and respect regardless of their gender, they experience this as an extension of God's love. This love becomes the driving force behind their actions, behaviors, and relationships with others.
Program highlight: Celebrating Families

Celebrating Families is an innovative biblical training for parents that helps them to see their children as gifts from God. It emphasizes healing family relationships, forgiveness, and providing a loving and safe home environment. It is now being implemented in 58 countries.
Program highlight: Channels of Hope
Channels of Hope is WV's preferred model for engaging faith communities for child well-being. Through Channels of Hope, faith leaders and communities are transformed into agents of change for prevention, care and advocacy in their communities. Long after WV is gone, these same faith leaders will carry on child well-being practices.
Walking alongside local churches
Churches are our indispensable partners in God's mission. World Vision has developed a global network of partnerships with tens of thousands of local churches, giving us the ability to reach deeply into communities and nurture children's faith in Christ.
We help to strengthen local leadership and equip them with practical programs and tools for ministry, such as much-needed Bibles and training on children's ministry, to empower them to nurture the faith of their communities and care for the most vulnerable.
Our commitment is that when World Vision leaves communities, there will be thriving, engaged churches for sustained spiritual and physical transformation.
Serving with integrity
We seek to be witnesses for Christ through our deeds of love and mercy, the character and conduct of our staff, and through words of testimony. The vast majority of World Vision's staff are from the region in which they work and can nurture faith in contextually appropriate ways.
Our Christian discipleship programs focus on communities in which churches and parents are anxious for their children to learn about Jesus and grow in their Christian faith.
We equip churches to share the gospel in ways that allow for children to express their faith, upholding the fundamental dignity of each individual granted by our Creator.
As children grow in their own faith convictions, they become ambassadors for Christ in their communities.
Where we work
Central America (El Salvador and Honduras)
Ethiopia
Kenya
Philippines
International Bible Fund – multiple countries