Our Approach
Nurturing children's spiritual growth is not a linear process, but rather cyclical, with children progressively deepening their understanding and faith. Our Christian formation program models guide children through the following key steps as they learn about God and incorporate their understanding into their own lives.
Awareness: Children's experiences point them to God. For example, they walk to the river daily to get water. But when it rains, water falls from the sky. Each child becomes aware of a power greater than themselves.
Understanding and knowledge: Someone — often a parent, caregiver, or teacher — points this newfound awareness toward God. For example, children learn God provides the rain from the sky, not a giant watering his garden or some other folk tale.
Relationship: As children grow in their experience of and relationship with God, they learn to express Christ-like caring with their family, in their friendships, and toward others in their community. Children learn to help others recognize God.
Based on this framework, projects incorporate program models that directly help children experience God and that train influential adults in their lives to guide their biblical understanding. We place a special emphasis on program models that focus on parents and caregivers, recognizing their central role in nurturing their children's development — spiritual, physical, and emotional.
Life-changing interventions
Enable children to grow in their awareness, knowledge, and experience of Jesus through Sunday schools, Vacation Bible Schools, Bible clubs, church-based camps, and school-based biblical values formation
Equip youth to explore God's purpose for their life and their role as leaders and mentors in their community through youth ministry, mentoring younger children in their faith, and church-based retreats
Equip parents and caregivers to provide a safe and caring environment that fosters their children's spiritual growth through training based on biblical models of forgiveness, raising children, and loving relationships
Empower and mobilize churches and Christian organizations to nurture children's faith in Christ through Bible clubs, camps, and activities that engage their interest and curiosity
Transformational Results
When intentional focus and resources are concentrated on encouraging the spiritual growth of children and youth, there are measurable, significant results.
From 2010 to 2015, World Vision U.S. donors made a significant investment toward resources and programs focused on nurturing spiritual growth, reaching more than 2.2 million men, women, and children through training, discipleship, and ministry activities.
In Uganda, one of the seven focus countries, the results were inspiring: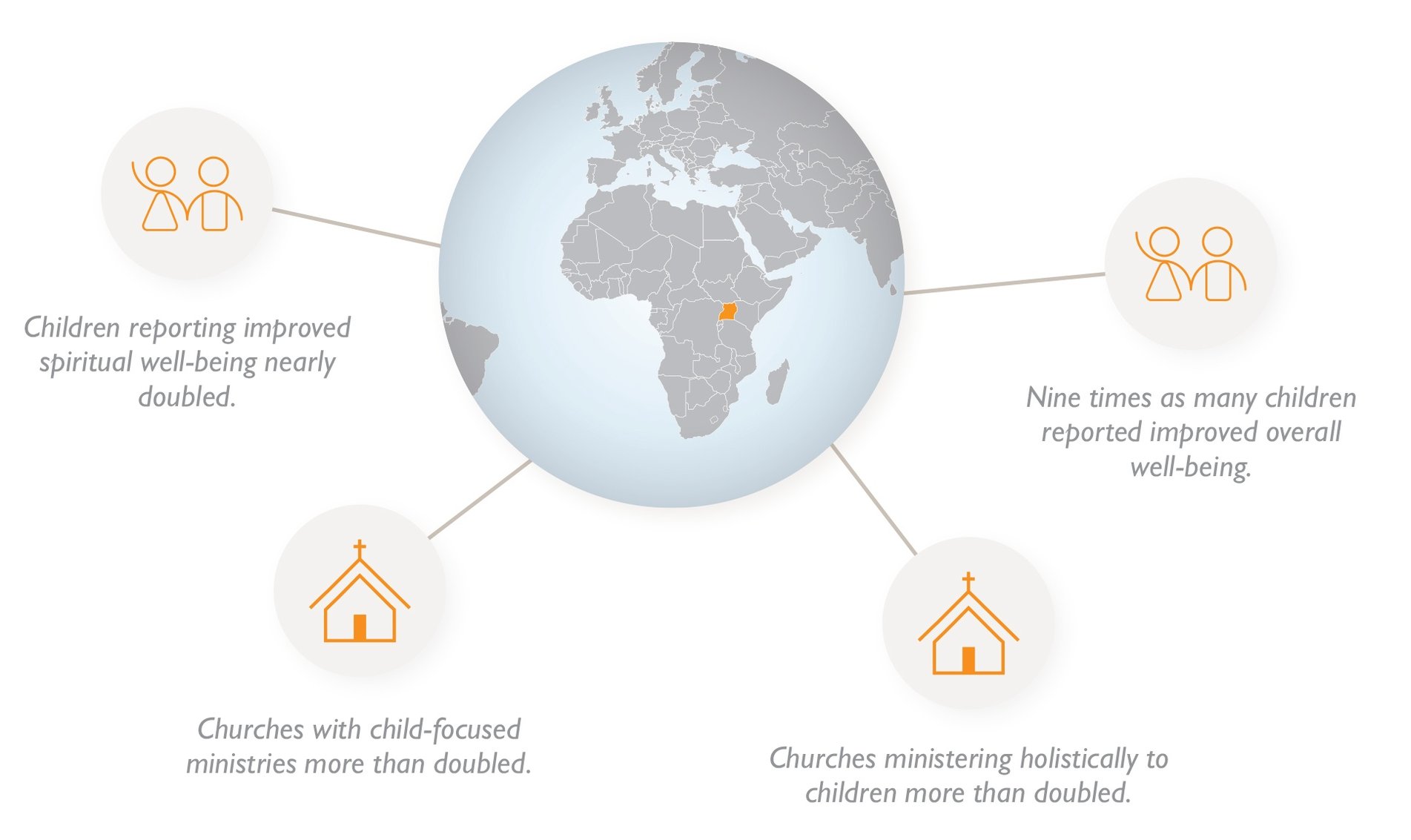 God's equal love for all his children
Our programming aims to transform relationships among men, women, boys, and girls in partnership with churches and Christian children's organizations to raise awareness of the value and equal worth of all people and to foster caring, positive relationships.
As Christians become more aware of God's equal love for every boy and girl, man and woman, they can value the innate worth He has given each individual. When children feel valued for who God has created them to be, they are better able to care for others, fully contribute to the kingdom, and envision a brighter future for themselves and their community.
In a focus group discussion facilitated by World Vision, children identified that their faith is expressed primarily in the relationships they have with others. Parents and other influential adults therefore play an integral role in how children perceive and understand God's character.
When children are nurtured, loved, and treated with equal dignity, justice, and respect regardless of their gender, they experience this as an extension of God's love. This love becomes the driving force behind their actions, behaviors, and relationships with others.
Program highlight: Celebrating Families

Celebrating Families is an innovative biblical training for parents that helps them to see their children as gifts from God. It emphasizes healing family relationships, forgiveness, and providing a loving and safe home environment. It is now being implemented in 58 countries.
Walking alongside local churches
Churches are our indispensable partners in God's mission. World Vision has developed a global network of partnerships with tens of thousands of local churches, giving us the ability to reach deeply into communities and nurture children's faith in Christ.
We help to strengthen local leadership and equip them with practical programs and tools for ministry, such as much-needed Bibles and training on children's ministry, to empower them to nurture the faith of their communities and care for the most vulnerable.
Our commitment is that when World Vision leaves communities, there will be thriving, engaged churches for sustained spiritual and physical transformation.
Serving with integrity
We seek to be witnesses for Christ through our deeds of love and mercy, the character and conduct of our staff, and through words of testimony. The vast majority of World Vision's 46,000 staff are from the region in which they work and can nurture faith in contextually appropriate ways.
Our Christian discipleship programs focus on communities in which churches and parents are anxious for their children to learn about Jesus and grow in their Christian faith. Recognizing that parents and caregivers are primarily responsible for children's care and development, our program models equip these adults to support their children on their faith journey.
We equip churches to share the gospel in ways that allow for children's freedom of conscience to express their faith, upholding the fundamental dignity of each individual granted by our Creator.
As children grow in their own faith convictions, they become ambassadors for Christ in their communities.
As one of the world's largest and most respected Christian humanitarian organizations, World Vision is actively involved in initiatives that set standards for governance, management, partnership, and accountability, including: