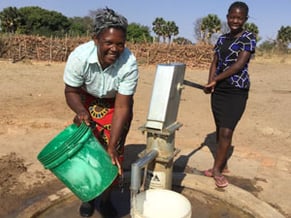 Cheelo & her daughter at the new well
For the Mweene family of Hamoombe village in southern Zambia, April 18, 2016 will always remain one of the most painful days - a day with memories of deep sorrow. It was that day 6-year-old Kezia drowned after slipping and falling into the deep well her family and 18 other households in the Hamoombe community relied on for water. The well was nearly 30 feet deep, hand-dug and unprotected.
Kezia was the second to last born in the family. She enjoyed singing, dancing and playing with her friends. "Our little girl was a very jovial and active person," says 42-year-old Cheelo, Kezia's mother.