World Vision's approach to ending violence against children protects them today and empowers them for tomorrow. We do this by equipping them, their communities, and local partners with the tools to address the root causes of violence against children.
In Kenya, we tackle the root causes of poverty that impact female genital mutilation (FGM) and child marriage. This includes providing increased economic opportunities for families living in extreme poverty and training community and faith leaders to take action and become champions for children in their communities. We also partner with the government to ensure a safe and quality education.
In India, World Vision creates programs to strengthen two distinct groups – young women and men.
Our Approach
World Vision is a global leader in empowering families and communities to keep children safe and equipping communities to provide healing and restoration services when children are abused.
Every child deserves to grow up protected, free from exploitation and abuse. World Vision has a plan to protect children based on global best practices. World Vision takes stock of all the people who could, should, or do have a responsibility or even an opportunity to contribute to the protection of children and works to mobilize them into action—starting with children themselves. We work to prevent violence wherever it occurs so no child has to experience it. How are we a global leader? We believe it begins at the grass roots level. Our staff are local to the area and a part of the solution.
The World Health Organization created the best in practice model for the protection of children through their INSPIRE model. World Vision not only helped to inform that model, but we put it into practice.
We do this through the four rings of responsibility.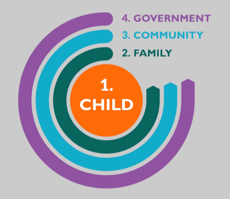 4 Rings of Responsibility
Empowering youth to protect themselves and others
Equipping parents to better care for and protect their children in the home
Mobilizing communities to take action to stop violence against children
Holding governments accountable for creating and enforcing laws that support the rights and well-being of children
Life-changing results
3,043,867 people including over 1,497,178 children, have benefited from our child protection projects since they began. In 2018 alone, over 567,000 people have benefited. This has included projects in Armenia, Bangladesh, Guatemala, Honduras, India, Kenya, Southeast Asia and Uganda. We've been tackling some of the worst forms of violence against children.
2019 highlights include:
1,422 schoolchildren and youth in Bangladesh benefited from 13 education and awareness sessions that focused on child labor and child protection.
517 families in Armenia participated in Celebrating Families activities, which trained parents to become more active nurturers of their children.
136 Christian faith leaders in India were trained in Channels of Hope for Child Protection and formed church action teams. More than 130 Muslim faith leaders participated in the Islamic version.
Engaging all of society
World Vision helps communities to build a protective environment for children — 4 Rings of Responsibility — a safety net of interconnected elements that protect children and ensure those who are harmed receive the help they need to recover.
World Vision programs strengthen the systems put in place to keep children safe. And we ensure access to services — medical, counseling, and legal — when children are harmed.
We engage all those who have a responsibility to protect children, starting with families and faith communities and extending to teachers and schools, local leaders, hospitals, police, government agencies, and courts.
World Vision strengthens families and caregivers to be the first line of protection and care for children through training in positive parenting, home visits to support vulnerable children and families, and livelihood support.
We specifically partner with local churches and faith-based organizations to equip them to take a leading role in preventing and responding to child exploitation and abuse.
Children also play a significant role as agents of change in their own lives. We empower them with life skills, including knowledge of how to mitigate risks and protect themselves and their peers. And we seek to build each child's ability to participate in decisions affecting their lives.
We want children to be celebrated and become all God created them to be with love, respect, and help from their families and faith communities.
Embracing all children
Jesus Christ is the model and basis for World Vision's work — namely His identification with the poor, the afflicted, and the marginalized. We are committed to protecting children at risk because of their gender or a disability.
Many of our efforts focus on abuse and exploitation deeply rooted in gender discrimination. We respond by highlighting the value and needs of girls and boys and affirming the important roles of parents, faith leaders, communities and governments in protecting children.
World Vision promotes the inclusion of people with disabilities in our work, so they are valued, active participants in the changes happening in their communities. In our child protection projects specifically, we are committed to ensuring that all children, including girls and boys with disabilities, have their voices heard in decisions affecting their lives.
Advocacy by and for children
World Vision is a world leader in citizen advocacy work. We operate at the local level to empower community members, including children, with information about their rights to essential services, such as healthcare and education. We also equip adults and youth to hold their governments accountable for delivering these services.
At the national level, World Vision advocates for the enactment, funding, and implementation of laws that protect children's rights and their well-being, such as laws prohibiting violence against children.