Our Approach
World Vision is a global leader in empowering families and communities to keep children safe and equipping communities to provide healing and restoration services when children are abused.
Every child deserves to grow up protected, free from exploitation and abuse. World Vision has a plan to protect children based on global best practices. World Vision takes stock of all the people who could, should, or do have a responsibility or even an opportunity to contribute to the protection of children and works to mobilize them into action—starting with children themselves.
We do this through the four rings of responsibility.
4 Rings of Responsibility
Empowering youth to protect themselves and others
Equipping parents to better care for and protect their children in the home
Mobilizing communities to take action to stop violence against children
Holding governments accountable for creating and enforcing laws that support the rights and well-being of children
Life-changing results
1,924,172 people including over 845,000 children, have benefited from our child protection projects since they began. In 2018 alone, over 567,000 people have benefited. This has included projects in Armenia, Bangladesh, Guatemala, Honduras, India, Kenya, Southeast Asia and Uganda. We've been tackling some of the worst forms of violence against children.
2018 highlights include:
21,244 children in Uganda participated in children's clubs, where they learned about human rights, how to protect themselves from violence, and how to advocate for change.
700 Kenyan children engaged in alternative rite of passage training to educate them about the dangers of female genital mutilation and cutting.
483 children were able to play and learn in Child-Friendly Learning and Recreation centers in seven red-light districts in India.
377 faith leaders in Uganda were trained in Channels of Hope for Child Protection, enabling them to join other trained faith leaders in promoting violence prevention messages in their communities.
224 children in Bangladesh were removed from hazardous labor and helped their parents increase their income so their children will not have to work again.
Engaging all of society
World Vision helps communities to build a protective environment for children — 4 Rings of Responsibility — a safety net of interconnected elements that protect children and ensure those who are harmed receive the help they need to recover.
World Vision programs strengthen the systems put in place to keep children safe. And we ensure access to services — medical, counseling, and legal — when children are harmed.
We engage all those who have a responsibility to protect children, starting with families and faith communities and extending to teachers and schools, local leaders, hospitals, police, government agencies, and courts.
World Vision strengthens families and caregivers to be the first line of protection and care for children through training in positive parenting, home visits to support vulnerable children and families, and livelihood support.
We specifically partner with local churches and faith-based organizations to equip them to take a leading role in preventing and responding to child exploitation and abuse.
Children also play a significant role as agents of change in their own lives. We empower them with life skills, including knowledge of how to mitigate risks and protect themselves and their peers. And we seek to build each child's ability to participate in decisions affecting their lives.
We want children to be celebrated and become all God created them to be with love, respect, and help from their families and faith communities.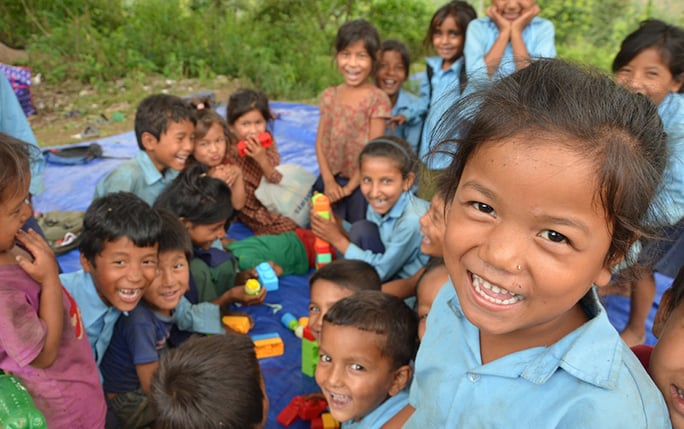 Embracing all children
Jesus Christ is the model and basis for World Vision's work — namely His identification with the poor, the afflicted, and the marginalized. We are committed to protecting children at risk because of their gender or a disability.
Many of our efforts focus on abuse and exploitation deeply rooted in gender discrimination. We respond by highlighting the value and needs of girls and boys and affirming the important roles of both men and women in protecting children.
World Vision promotes the inclusion of people with disabilities in our work, so they are valued, active participants in the changes happening in their communities. In our child protection projects specifically, we are committed to ensuring that all children, including girls and boys with disabilities, have their voices heard in decisions affecting their lives.
Advocacy by and for children
World Vision is a world leader in citizen advocacy work. We operate at the local level to empower community members, including children, with information about their rights to essential services, such as healthcare and education. We also equip adults and youth to hold their governments accountable for delivering these services.
At the national level, World Vision advocates for the enactment, funding, and implementation of laws that protect children's rights and their well-being, such as laws prohibiting violence against children.
An Integrated solution
Through decades of experience in child protection, World Vision has learned we must address all aspects of poverty as one integrated system to be successful. When you invest in child protection, you're helping us address other areas that help tackle the root causes of poverty.
ECONOMIC EMPOWERMENT We increase household earnings and access to markets to reduce children's vulnerability to trafficking and to help survivors transition back to family and community. Similarly, vocational training provides opportunities for employment and preparation for microlending.
EDUCATION Working alongside communities, we help children learn to read, increase access to early childhood education and youth workforce development, ensure inclusive education for all children, improve learning outcomes, provide education in emergencies, and help to create safe schools.
EMERGENCY RELIEF World Vision helps to identify children separated from their families, provides psychosocial support, and operates Child-Friendly Spaces — safe havens for children where they can play, draw, sing, share their feelings, and engage in educational activities. This helps children regain a sense of normalcy in their lives.
FRAGILE CONTEXTS Fragile contexts are home to the world's most vulnerable children. We help to ensure children are protected and cared for. We operate Child-Friendly Spaces and provide psychosocial support. We also promote birth registration, local protection committees, and improvement of government protective services.
MOTHER AND CHILD HEALTH Health systems play an important role in reporting and responding to child abuse, exploitation, and neglect. They help achieve birth registration, early childhood development, early interventions for children with disabilities, and home visits to monitor child well-being.
WATER We ensure community wells, water points, and school latrines are accessible for children with physical disabilities. We also build gender-specific latrines to decrease gender-based violence at schools.