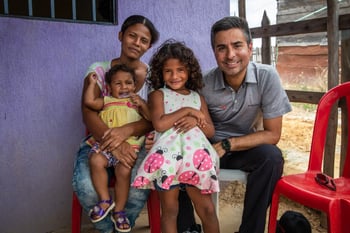 Edgar poses with Sofia, 5, center, and her mother and baby sister after hearing their story of leaving Venezuela and struggling to find stable housing in Colombia. ©2019 World Vision/photo by Chris Huber
"Growing up there (Venezuela) for most of my childhood, I lived in a country that was united and prosperous and safe. That doesn't exist anymore." Edgar Sandoval Sr., president of World Vision U.S..
Venezuela is in crisis. About 4 million Venezuelans — 5,000 per day in 2018 — have left the country seeking food, work, and a better life.
Latin America's largest migration in recent years is driven by hyperinflation, violence, and food and medicine shortages stemming from recent years of political turmoil. Once-eradicated diseases like cholera and malaria have returned, and children increasingly are dying of causes related to hunger and malnutrition.
An estimated more than 1.1 million people have settled in Colombia, nearly 506,000 in Peru, 288,000 in Chile, 221,000 in Ecuador, 130,000 in Argentina, and 96,000 in Brazil. About 300,000 Venezuelans are in the United States and more than 255,000 in Spain, according to the U.N. International Organization on Migration.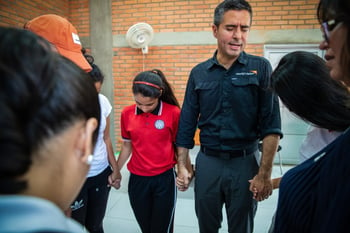 Edgar prays with students and World Vision staff during a visit to a Colombian school serving families affected by the crisis in Venezuela.©2019 World Vision/photo by Chris Huber
While the influx from Venezuela has caused tensions in host countries, it also has brought out their hospitable spirit. Still, needs among families in transition are great. And forecasts for 2019 show the number of displaced people may increase to more than 5.4 million. World Vision staff in neighboring countries are helping.
Edgar Sandoval Sr., president of World Vision U.S., visited Venezuela to see first-hand the stories he has heard from friends. Friends, from his childhood growing up in a prosperous Venezuela.
Watch and read what surprised him, broke his heart and encouraged him to have hope.
---
It was a surreal moment as I stood on the Simon Bolivar bridge in Colombia, watching people from Venezuela stream past. I saw parents juggling babies, toilet paper, and groceries. Older women in wheelchairs and students in school uniforms and backpacks.
This border crossing between Colombia and Venezuela reopened just a few days before I arrived. Prior to that, only students or those with medical notes could get through.
---
Jefferson broke down and cried as I prayed for him. The young father, 21 years old, had been bearing the heavy weight of responsibility for his young wife and their infant, as well as the grandmother he'd left behind in Venezuela.
Here at a shelter in Cucuta, Colombia, he was preparing to lead his family on a 180-mile trek on foot, joining thousands of Venezuelans each day who walk along the highway with little to no shoulder, squeezed between zooming buses and a sharp drop off. Their journey would take them thousands of feet up through a mountain pass known as "The Fridge" where parents worry about their children in the frigid temperatures.
---
Question and answer session with Edgar
1. Why was it important for you to come on this trip?

2. What was your reaction to the masses crossing the border?

3. What stories or people stood out to you on your visit?

4. What will World Vision's role be in response to this crisis?

5. Did anything on this trip surprise you?

Watch the full video: