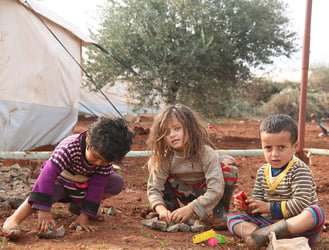 The 10th anniversary of the Syrian civil war slipped by unnoticed for many, falling just four days after the one-year mark of the WHO's declaration of COVID-19 as a pandemic. This World Refugee Day, recognized internationally on June 20, we pause to reflect, listen to, and lament with the people whose lives have changed irrevocably during these last 10 years.
Since the civil war officially began in 2011, families have suffered under brutal conflict that has killed hundreds of thousands of people, torn the nation apart, and set back the standard of living by decades.
Continued conflict has created economic despair. "On top of the strain on families' ability to secure basic food rations and household items, the economic impact of the war continues to drive serious child protection concerns, including negative impacts on education," writes Barrett Alexander, a senior policy advisor for World Vision. "Parents are forced to remove children from school due to the inability to pay fees, and teachers are not receiving their salaries. Some children go to schools in the displacement camps but arrive covered in mud, having walked miles upon miles to attend. Many girls who drop out of school are severely impacted by child marriage."
FAQs: What you need to know about the Syrian refugee crisis
All that many Syrian children have ever known is war. These grim circumstances have had an extreme effect on their mental, physical, and social health, jeopardizing the future of children who will one day need to rebuild Syria.
Syria's army has been regaining territory since late 2015. Only governorates in the northeast and northwest remain outside government control. Humanitarian groups are unable to access many conflict areas, so there's limited knowledge of civilians' needs. With hundreds of thousands of people newly displaced in 2020 in northern Syria, aid groups are struggling to meet their needs for shelter, access to clean water, and food.
The COVID-19 pandemic has exacerbated the poverty and joblessness faced by refugees. At least 1.1 million Syrian refugees and displaced people in Syria have been driven into poverty as a result of the pandemic, according to a December 2020 report by the World Bank Group and the U.N. Refugee Agency.
Below, explore facts and frequently asked questions about the Syrian civil war and resulting Syrian refugee crisis, and learn how to help Syrian refugees and displaced families within Syria.
What is the Syrian refugee crisis?
The Syrian refugee crisis is the humanitarian emergency resulting from the Syrian civil war that began March 15, 2011. It has exacted a heavy toll on hundreds of thousands of children and their families. It's the largest refugee and displacement crisis of our time, affecting millions of people and spilling into surrounding countries. It's also a protracted crisis, defined as an ongoing complex crisis of five years or more.
How many Syrian refugees are there?
There are about 6.6 million Syrian refugees total, with 5.6 million of them still living in the region. Another 6.2 million people have been displaced from their homes within Syria. At least 11.1 million people in Syria need humanitarian assistance, nearly half of whom are children.
How did the Syrian civil war start?
The Syrian civil war started with peaceful protests. In March 2011, young people took to the streets in the southern city of Daraa, seeking government reforms. The movement was part of the social media-fueled Arab Spring that swept through the Middle East and North Africa. March 15, dubbed the "day of rage," was a turning point, which is why it's internationally recognized as the anniversary of the war.
As protests spread through Syria, they were countered by strong government crackdowns and increasing violence from both government forces and protesters. By the following year, Syria was embroiled in a civil war, with the Syrian military opposing a growing number of militant groups. Conflict has torn apart the lives of millions of Syrian children and families as government forces and militant groups fight to take and rule territory.
The country's weakened governance, as well as the destruction of its social services and institutions, make Syria a textbook case of a fragile state.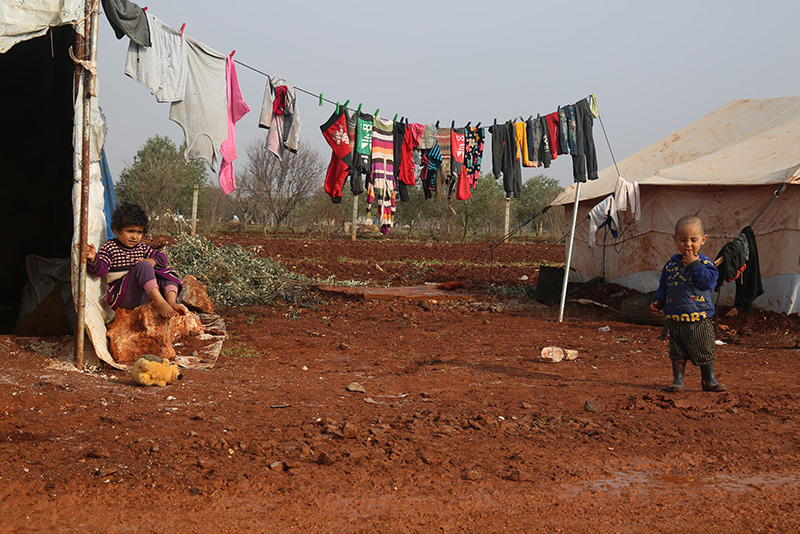 Why are Syrians leaving their homes?
Like other refugees around the world, Syrians are forced to flee their homes when life becomes unbearable. Some of the top reasons they cite include:
Violence. According to the Syrian Observatory for Human Rights, over 606,000 people — including more than 25,000 children — have been killed since the war began. The war has become deadlier since foreign powers joined the conflict.
Collapsed infrastructure. Within Syria, only 53% of hospitals and 51% of healthcare facilities are fully functional, and more than 8 million people lack access to safe water. An estimated 2.4 million children are out of school. Conflict has shattered the economy, and more than 80% of the population lives in poverty, on less than $1.90 a day.
Children in danger and distress. Syrian children — the nation's hope for a better future — have lost loved ones, suffered injuries, missed years of schooling, and experienced unspeakable trauma.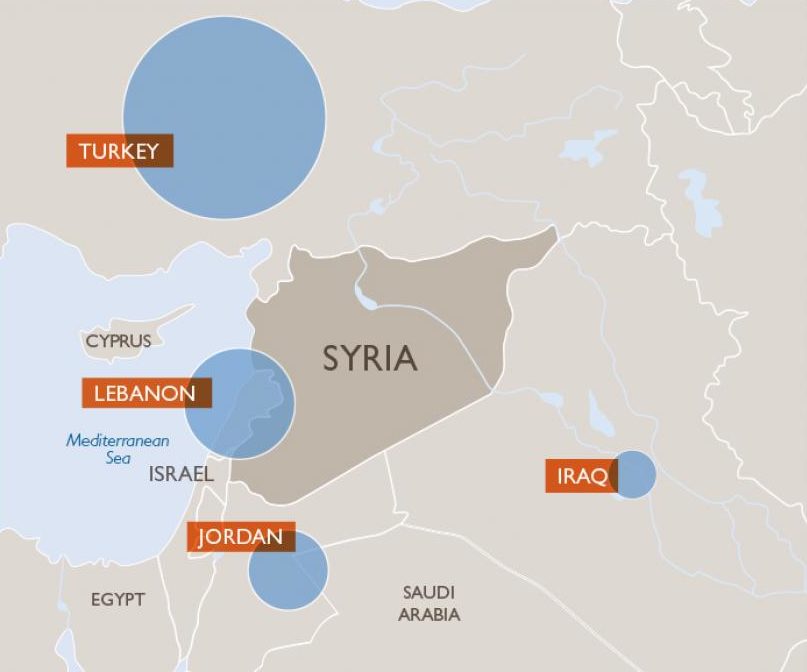 Where are Syrian refugees going?
The majority of Syria's 6.6 million refugees, about 5.6 million, have fled — by land and sea — across borders to neighboring countries but remain in the Middle East.
Turkey: 3.6 million Syrian refugees are in Turkey. About 90% of them live outside of refugee camps and have limited access to basic services.

Lebanon

: 855,000 Syrian refugees make up about one-eighth of Lebanon's population. Many live in primitive conditions in informal tent settlements, which are not official refugee camps. With few legal income opportunities, they struggle to afford residency fees, rent, utilities, and food.
Jordan: Nearly 667,000 Syrian refugees are in Jordan. Some 120,000 people live in the Za'atari and Azraq refugee camps, where aid groups have converted desert wastes into cities.
Iraq: 245,000 Syrian refugees are in Iraq, most in the northern Kurdistan region where over a million Iraqis fled to escape ISIS. Most refugees are integrated into communities, putting a strain on services.
Egypt: 132,000 Syrian refugees live in Egypt.
How is the Syrian civil war affecting children?
The conflict has stolen the childhood of millions of Syrian children and has affected their long-term physical and mental health as well as their prospects for the future. Many children caught up in this crisis have lost family members and friends to the violence, suffered physical and psychological trauma, and found themselves without access to education.

Some specific threats to children are:
Diseases and malnutrition. Children are susceptible to illness brought on by poor sanitation and hygiene. They may miss vaccinations and regular health checkups, especially in cut-off areas. In poor housing, cold weather increases the risk of pneumonia and other respiratory infections. Lack of access to healthy foods weakens them further.
Child labor and child soldiering. Many refugee children have to work to support their families. Often they work in dangerous or demeaning circumstances for little pay. Warring parties forcibly recruit children to use as fighters or human shields and in support roles, according to the U.S. State Department's Trafficking in Persons Report.
Child marriage and abuse. Syrian children are more vulnerable to sexual abuse and exploitation in the unfamiliar and overcrowded conditions found in refugee camps and informal tent settlements. Without adequate income to support their families and fearful of their daughters being molested, parents may opt to arrange a marriage.
Lack of education opportunities. In Syria, the war reversed two decades of educational progress. One in three school-aged children are not in class. Many classes are suspended because buildings were damaged or destroyed, or are occupied by military groups or displaced people.
What is World Vision doing to help Syrians affected by conflict?
World Vision has been working in the Middle East region for nearly 40 years. We're dedicated to improving the lives of children, families, and the communities where they live through long-term sustainable development as well as responding to disasters — both natural and man-made.
World Vision quickly came alongside Syrian families who fled to Lebanon in 2011. Since then, our work has expanded to other countries hosting Syrian refugees, and into Syria. Children and their long-term needs are always our first priority as we plan our programming.
We provide aid to children and families in Syria, Lebanon, Jordan, Turkey, and Iraq. Since the Syrian refugee crisis began, we've helped more than 6.5 million children and their families in the region with resources like healthcare, emergency food, shelter repair kits, Child-Friendly Spaces and child protection training, livelihood support, psychosocial support for women and children, and clean water, improved sanitation, and promotion of safe hygiene.
From October 2018 to November 2020, World Vision led Facilitating Assistance to Syria Together (FAST), a consortium of humanitarian aid partners and local organizations, in its goals to help 3.6 million people in northwest Syria with emergency healthcare, shelter, and clean water and effective sanitation and hygiene. The two-year, $80-million project was funded by USAID.
During the COVID-19 pandemic, we've provided access to remote remedial classes in host communities, vocational training activities with appropriate physical distancing measures, hygiene kits and promotion of safe hygiene practices, and livelihood and rehabilitation projects.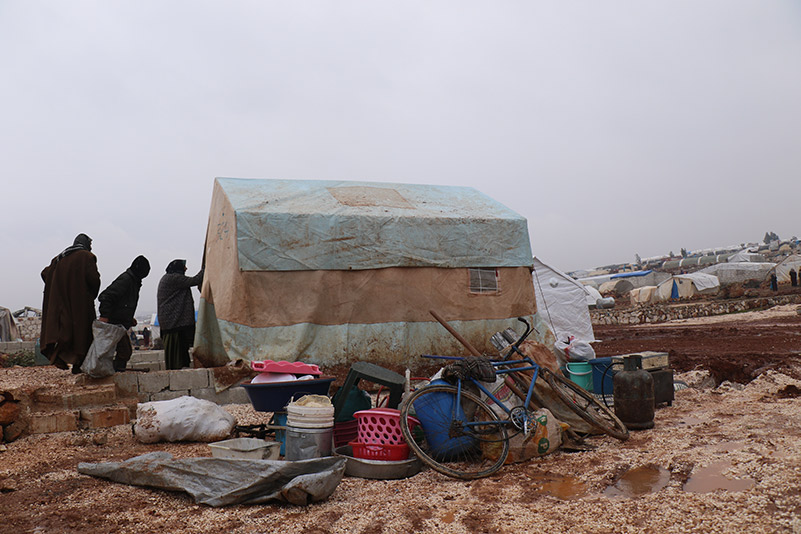 How can I help Syrian refugees?
Syrians fleeing conflict in their country often leave everything behind. They're in need of the basics to sustain their lives: food, clothing, healthcare, shelter, and household and hygiene items. They also need reliable access to clean water, as well as sanitation facilities. Children need a safe environment and a chance to play and go to school. Adults need employment options in cases of long-term displacement. You can help provide resources like these when you partner in World Vision's work to help refugee children and families.
Let's keep asking God to provide for the needs of conflict-affected Syrian families, refugee children, and the aid workers serving alongside them.
God, You are the Great Provider. You see Syrians' needs with a tender heart. Just as You sustained the Israelites in the desert and fed 5,000 men (plus women and children!) with just a few loaves and fish, help Syrians get exactly what they need each day to survive. Comfort them as they struggle, and nourish their souls with renewed hope each morning. Guide them to places where they can find help and rest. Help us be advocates for peace in this troubled land.

Chris Huber, Sevil Omer, Heather Klinger, and Elisabeth Rickard of World Vision's U.S. staff contributed to this article.