World Refugee Day: Compounding global crises
On World Refugee Day, June 20, World Vision joins with the U.N., the United Nations High Commissioner for Refugees (UNHCR), and others to ensure the voices of refugees and displaced people are heard. The compounding global crises of conflict, climate shocks, and the ongoing effects of the COVID-19 pandemic have worsened conditions for vulnerable people, especially refugees — pushing them further into already-desperate situations.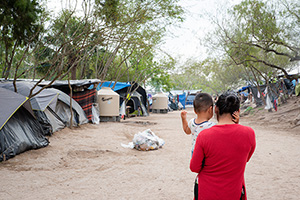 A young mother and her 2-year-old son walk down the main path at an informal refugee camp in Matamoros, Mexico
By May 2022, the number of forcibly displaced people worldwide surpassed 100 million — for the first time ever. This number includes refugees, internally displaced people (IDPs), and asylum seekers. According to the U.N., every minute 20 more people leave behind their homes and their livelihoods in search of safety. Why are so many people displaced?
Conflict's global consequences
In 2020 alone, 11.2 million people were newly displaced. And as many as 86% of all refugees are hosted in developing countries who are in need of aid for their own citizens. Conflict like the one in Ukraine has ripple effects on global food and energy supplies that the most vulnerable populations will feel first — and deepest.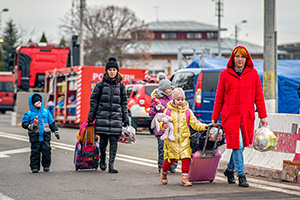 Movement of Ukrainian women and children on the border with Romania called Vama Siret.
The secondary effects of the crisis in Ukraine risk tipping up to 1.7 billion people — over one fifth of the global population — into poverty and hunger, according to the findings of the U.N.'s Global Crisis Response Group on Food, Energy and Finance. As they say, "The world's most vulnerable people can not become collateral damage." More than three-quarters of the world's least developed countries are "severely exposed" (in the U.N.'s term) to a food, energy, or finance shock as a result of the Ukraine crisis. Facing conflict or disaster at home, many refugees flee in search of safety to places that offer hardly more stability than where they left.
Not all crisis zones or disaster-affected areas create refugee populations, but the World Bank estimates that by 2030, up to two-thirds of the world's extreme poor could live in fragile and conflict-affected countries. In short, the world's most vulnerable people are poised to become even harder to reach with immediate support and long-term development that helps them rise out of poverty. But for over 70 years, World Vision has been present in these places, with the community relationships and infrastructure to help keep hope alive.
Children in crisis
Of the world's forcibly displaced people, 42% are children — and for perspective, children make up only 30% of the world's population. That means conflict and displacement disproportionately affect children, especially in places where they're already more vulnerable from the effects of poverty and injustice. The UNHCR estimates that between 290,000 and 340,000 children are born into life as a refugee each year. And about 3.7 million refugee children aren't in school, a statistic that was calculated apart from the pandemic's global impact on education access.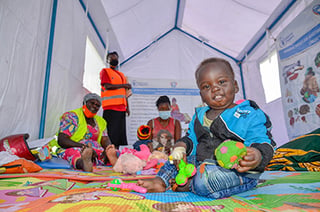 At a cash and food distribution in South Sudan, World Vision created a childcare center equipped with toys for children and lactating mothers.
We know God's heart breaks for children and families forced into such unimaginable situations as refugees face, trusting that "He defends the cause of the fatherless and the widow, and loves the foreigner residing among you, giving them food and clothing" (Deuteronomy 10:18, NIV). Reaching children and families in crisis situations with hope and help is one way we live out God's call for His people to care for those in need.
A South Sudanese story of hope
Ongoing internal conflict and insecurity is causing South Sudanese people to flee to neighboring Uganda, where huge refugee settlements have been established. The crises causing people to leave their homes and livelihoods are complex and so are the refugees' needs. World Vision is working with South Sudanese families in Ugandan settlements to ensure they have access to food, healthcare, hygiene supplies, and more.
UNHCR reports that 63% of all South Sudanese refugees are children, an even higher proportion than the global rate. During a cash and food distribution in one of these Ugandan settlements, World Vision created a childcare center at the distribution point, providing nursing moms and babies with a safe and educational space. Little ones play while their mothers hear teachings on nutritional foods and proper breastfeeding to ensure their children receive the quality care and grow up healthy.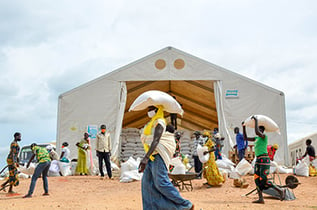 World Vision is partnering with the World Food Programme to reach over 230,000 South Sudanese refugees in Uganda with food assistance.
World Vision and the World Food Programme are reaching over 230,000 South Sudanese refugees in Bidibidi refugee settlement in Uganda with life-saving food assistance this year. Both host communities and refugees are being equipped with agriculture training to enhance food supplies and livelihood opportunities.
World Vision's ongoing global response
World Vision's response in crises, from natural disasters to conflict, has always been to prioritize the safety and wellbeing of children. In Ukraine and surrounding countries, we're helping fleeing moms and kids get access not only to crucial shelter and food supplies but also internet hotspots and technology connections in a new partnership.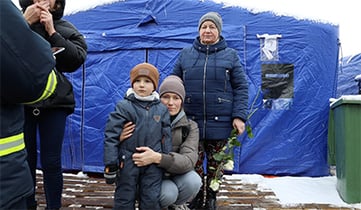 A Ukrainian grandmother, mom, and 3-year-old son newly arrived at the Romanian border are welcomed by officials and volunteers.
World Vision works in 39 of the 57 countries classified by the OECD as "fragile" and in 12 of the 13 classified as "extremely fragile." Many of these countries are the same ones where the largest refugee populations are coming from — countries like Syria, Venezuela, Afghanistan, South Sudan, and Myanmar. More than two-thirds of all the world's refugees are coming from just these five countries. In 2021, we assisted 30.1 million people in disasters, including about 8.2 million who are refugees or internally displaced. Thanks to the support of our donor partners, we'll continue to show God's love to and care for the world's most vulnerable people, no matter where they live.