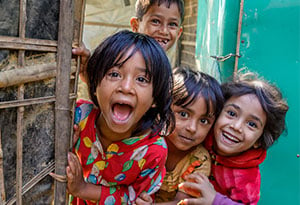 Like children everywhere, Rohingya children in a Bangladesh refugee camp find joy playing together. Of the nearly 1 million refugees living in the camps, 55% are children. Despite difficult conditions, they can come together daily at World Vision's Child-Friendly Spaces to have fun and learn. (©2019 World Vision/photo by Jon Warren)
Every day of the year, World Vision works around the world to meet the needs of refugees. On June 20, World Refugee Day, we highlight the plight of the 68.5 million people who have been forcibly displaced from their homes and the innovative ways we help them cope. Running from violence in Syria, Myanmar, South Sudan, Afghanistan, Democratic Republic of the Congo, Venezuela, and other countries, refugees seek a new life of safety. More than half of the world's refugees are children.
Since August 2017, about 700,000 people from the Rohingya ethnic group have fled Myanmar and joined 200,000 Rohingya already taking refuge in Bangladesh, according to the U.N. refugee agency. Through its response to the crisis, World Vision is investing in a better life today and a better future for Myanmar's refugees, especially children.
Here are some of the innovative solutions we've brought to refugee camps in Bangladesh:


Community kitchens
help refugee moms feed their families nutritious food without having to cut, carry, or buy firewood. Response Director Rachel Wolff explains how the kitchens also serve as gathering places where women are empowered to solve problems. (04:00)
Solar lamps
make streets, toilet blocks, and bathing areas safer for women and girls to use at night. (00:30)
Mirrors at hand-washing stations have been shown to increase hand-washing among children and adults, says Rachel. In Bangladesh refugee camps, mirrors can be lifesavers. (00:37)
Former sponsored child Atul Mrong, deputy operations director of the Rohingya response, talks about what World Vision is doing for refugees and how sponsorship and his childhood in poverty made him want to give back to people in need. (03:27)
Pray for refugees
Please pray for their protection. May those who are on the move be reunited with loved ones and find a safe haven. May aid workers who serve them have the strength and resources to meet the seemingly overwhelming needs they face.
Ask God's blessing on these and other refugees:
5.6 million Syrian refugees in Lebanon, Jordan, Turkey, and other countries continue to need lifesaving aid as well as support for education and new livelihoods.
2.3 million South Sudanese refugees are in need of assistance. Most have relocated to countries nearby, including Uganda, Sudan, Ethiopia, and Kenya, where poverty is already high.
3.7 million Venezuelans have left their homes looking for new opportunities. Many left with limited resources and need opportunities to work and go to school.
Please give to World Vision's Global Emergency Relief Fund to help refugees around the world, including those in Bangladesh, as well as Uganda, Lebanon, and other host countries.