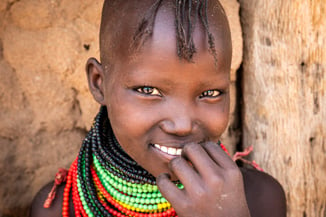 A girl smiles in Kenya, despite the hardship of the
worst drought in years
War. Disease. Disasters. Inflation. Uncertainty. A global hunger crisis. Extreme challenges were everywhere in 2022, especially for the vulnerable children and families around the world. But because of your continued partnership this past year, we were able to provide urgently needed help to people in the most desperate circumstances. Thank you!
Edgar Sandoval Sr., World Vision's president and CEO, visited some of these families in the world's toughest places — like Kenya and the border of Ukraine — this year, and their struggles made him look to the words of Isaiah: "But those who hope in the Lord will renew their strength. They will soar on wings like eagles; they will run and not grow weary; they will walk and not be faint" (Isaiah 40:31, NIV). Because no child is lost and no situation is hopeless … when our hope is in Jesus.
Beauty amid the pain at the Ukrainian border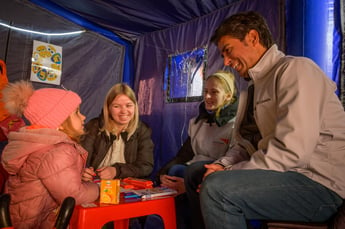 Edgar at the border of Ukraine and Romania, spending time with families there like Tatiana and her 4-year-old daughter Arina
Edgar witnessed the beauty of God's presence amid the pain of war, as volunteers provided solace and hope to grieving refugees at the Ukraine border in Romania. Busses had arrived full of refugees escaping bombs and bullets. They were tired and worried for loved ones. "I saw an elderly man dressed in muddy clothes, as if he had crawled across the border," Edgar remembers. "Sobbing, he pointed at the sky, reliving the moment that a bomb rained down on his home. He collapsed against a barrier, unable to take another step."
"Suddenly, a volunteer rushed over and pulled the man into a tight embrace. After a few minutes, when the man was comforted and able to move on, the two parted ways. That brief moment of human connection was beautiful. 'Beauty amid the pain' was the phrase that came to me."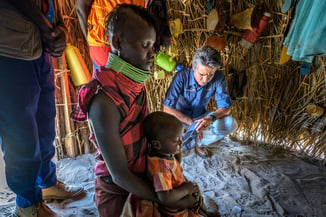 Edgar and Ekidor praying together in her home in Kenya
Loving her neighbors as much as she loves her children
The effects of Ukraine's conflict have reached even the remote countryside of Kenya, where food prices have tripled due to the war. At a site where World Vision staff and partners were distributing emergency food aid during the worst drought in years, Edgar saw the love of Jesus as a mom shared what little she had. "I walked with a mom of six, Ekidor, as she returned home with her rations — only enough to feed her family for a few weeks," he says. "When we arrived, a group of hungry neighbors were waiting at her gate. Without hesitation, Ekidor took a cup and began scooping out portions of her food for them. Her quiet generosity, despite her own family's need, was another moment of beauty amid the pain."
God became flesh and moved into these moments with us
As we prepare our hearts for Christmas and the birth of Jesus, it's comforting to know that He came to bring hope to every kind of suffering. He stepped into the world's pain. He stepped into that elderly man's pain, into Ekidor's pain, into all of our pain.
And with each gift and prayer for those in need, you join Him in this beautiful response toward others — a sign of God's kingdom, here on earth as it is in heaven. Like Ekidor reaching out to her neighbors, even though she was in need herself. That shows her true hope.
Show Jesus' love with a year-end gift
As 2022 comes to a close, please prayerfully consider making a year-end gift today to provide urgently needed help for families struggling in the most desperate circumstances.
You'll be joining with other believers to meet the needs of today and tomorrow, empowering children and communities to rise above poverty with fresh dreams for the future.
Your gift to the World Vision Fund will help tackle injustice to protect children, provide urgently needed help for people fleeing conflict, feed those threatened by hunger and starvation, deliver emergency aid when devastation hits, and equip families to thrive around the world and right here at home. It's giving that goes beyond quick fixes to make lasting change possible, equipping people with reliable access to basics like clean water, nutrition, healthcare, education, and more.
As the new year approaches, let's continue to draw close to those who suffer, sharing with them the beauty of God's presence and the unstoppable love of Jesus Christ.
Important year-end giving opportunities
Careful planning with your tax advisor may allow you to do more for others and improve your financial position for the 2022 tax year. Contact a World Vision representative at 1.800.426.5753 to discuss any of the following opportunities:
Charitable gift annuity
Cryptocurrency
IRA qualified charitable distribution
Gifts of appreciated securities
Donor advised funds