Around the world, 65.6 million people — 1 of every 113 people on the planet — have been forcibly displaced, either in their own country or across borders as refugees. That's almost as many people as the combined populations of California and Texas, the most populous states in the U.S.
On World Refugee Day, June 20, World Vision recognizes the responsibility we have as Christians to care for people in need. As a child-focused organization, World Vision is strongly committed to serving refugees, more than half of whom worldwide are children. Humanitarian crises always deliver the heaviest blows to the poorest — especially children — in the most underdeveloped, unstable parts of the world. Our faith calls us to reach out to God's children in need, to protect lives, restore dignity, and renew hope.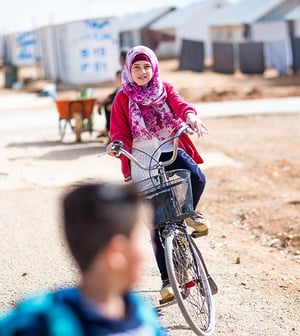 Shaima, a refugee from the Syrian civil war, lives in a refugee camp in Jordan. She dreams of becoming a pediatrician, so she can heal children who've been hurt by violence. (©2016 World Vision /photo by Alex Whittle)
Twelve-year-old Shaima and her family are struggling to rebuild their lives in a refugee camp in Jordan. They had to walk nearly 50 miles to the border when they fled Syria. She says her sister died from sunstroke on the way. Shaima is haunted by memories of her home, neighborhood, and school — all destroyed by bombs — and the screams of neighbors wounded in the attacks. Yet she finds healing in the daily routine of school and playing soccer in a World Vision league. Because of the suffering she's witnessed, Shaima hopes to become a pediatrician.
Syrian refugees like Shaima — now numbering nearly 5.7 million — have come to symbolize the global refugee crisis. Over the past seven years of Syria's civil war, refugees have flooded into neighboring countries: Turkey, Lebanon, Jordan, Iraq, and Egypt. Ninety-nine percent of them still live in the region, many in camps or tent settlements where their lives are unsettled and dependent on aid.
Onesta, 27, fled the civil war in South Sudan to become a refugee in Uganda. Pregnant and exhausted, she walked for seven days through the bush, along with her 6-year-old daughter, Gloria. Soon after crossing the border, she gave birth to baby Diana at the refugee reception center. Onesta started over in a new country with help from aid distributions: a tent, mosquito net, food, and supplies. She nestled Diana into a cardboard box for a crib. "It has been very difficult for us, but here there are no guns, no looting. ... At least we are safe," says Onesta. "I will only return when peace returns."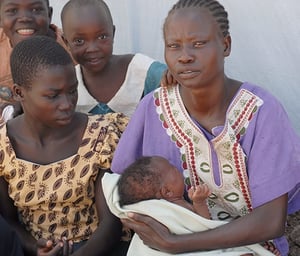 Onesta, 27, holds her two-month-old daughter, Diana. Left of her, wearing a white collar, is six-year-old Gloria, her older daughter. Onesta and Gloria fled conflict in South Sudan to start life over in Uganda. "I will only return when peace returns," Gloria says. (©2017 World Vision /photo by Kristy Allen-Shirley)
Because World Vision is active in nearly 100 countries, we're able to effectively scale our emergency responses to address both urgent and ongoing needs of disaster-affected communities. Our focus is on providing for the most basic human needs — food, healthcare, water and sanitation, shelter, and child protection — but also on equipping children, families, and communities to improve their lives through education and jobs training.
World Vision is currently working in 25 emergencies across 28 countries, providing humanitarian aid to more than 8 million people. While some disasters draw attention from the media and the American public, most do not. Families and communities caught up in less visible crises struggle to overcome devastation and loss, often without any outside help. World Vision's Silent Disasters Fund aims to fill this gap by providing vital resources to those who need them the most.
In Bangladesh, where 700,000 refugees have fled from Myanmar to escape ethnic violence, the Silent Disasters Fund helps families in refugee camps. World Vision provides tarps, blankets, sleeping mats, and rope to build shelters. We deliver staple foods, diagnose malnutrition in children, and help mothers learn to feed their children properly. Through Child-Friendly Spaces, children receive psychosocial care and protection in an environment that encourages play and learning.
Children sing and dance with children at the Child Friendly Space outside Kananga, in Kasai Central, DRC. (©2017 World Vision /photo by Kate Shaw)
In the Democratic Republic of the Congo's Kasai region, which has been rocked by militia attacks and counterattacks by armed groups, children were heavily recruited into armed groups, and others were attacked by villagers who accused them of being militia members. At the height of the crisis, 1.7 million people fled their homes to live as wanderers in their own country, or as refugees in the neighboring country of Angola. Although World Vision has worked in the Democratic Republic of the Congo and Angola for years, we've scaled up our response to address the increasing needs resulting from this crisis.
Food and child protection came first. In partnership with the World Food Program, World Vision has distributed food items to more than 100,000 people in Kasai-Central since August 2017. We opened six Child-Friendly Spaces, conducted back-to-school distributions of school bags and supplies, and provided education programs to reach more than 30,000 children affected by the conflict.
With the help of donor partners like you, World Vision's Refugee Crisis Fund will continue to make a difference in the lives of some of the world's most vulnerable people and let them know they are not forgotten.