Lyné Brown is a member of World Vision's National Leadership Council. This is the story of her trip to see World Vision's work in Jordan.

"I am talking on behalf of Syrian children, calling on you—the people of the other world. Have you ever thought of Syria? Have you ever thought of the children of Syria? My country, Syria?
We fear you are forgetting us…."
This is part of a letter written by a 10-year-old girl named Haya. She read it to Rich Stearns when he made a trip to Jordan in 2013 to meet with Syrian refugees for the first time. This letter haunts me.
People of the other world—that's me!
We fear you are forgetting us …I'm not sure I thought much about these children before God grabbed my heart. But this letter is one of the prompts that God used to send me and my husband Pat to Jordan.
I did not know what to expect as we made our way to Amman, Jordan, to meet the Emergency Response team headquartered there. Originally, we were supposed to go to Iraq, but the fighting in Mosul made it too dangerous for us to travel there, so our trip moved to Jordan. For some reason, we felt God's call to do something about the refugee crisis, so we went.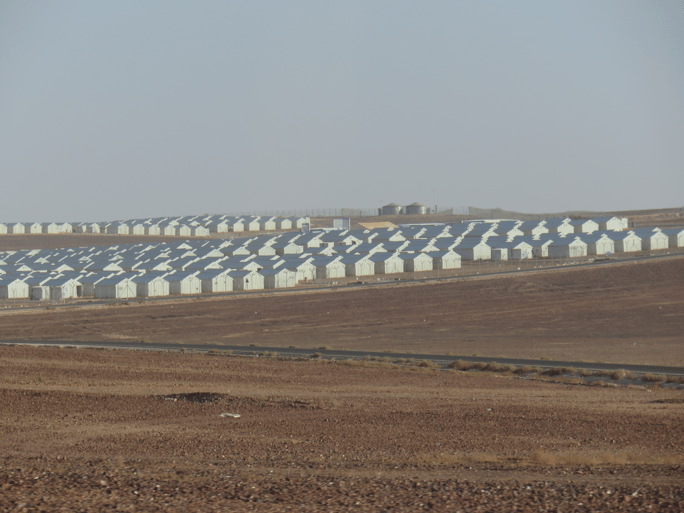 One of the first places we visited was Azraq Camp. It is a planned community with temporary housing designed to support 75,000 people. About 48,000 are living there now.
It is sterile. One-room tin houses about the size of a small child's bedroom.
We met a Syrian family housed there. They had five children of their own, and were caring for three orphans that they'd taken in. The one-room living space was furnished with a single carpet centered on the floor and small, flat, rectangular cushions lining three of the four walls.
They told us stories of their long journey, walking from Damascus to Jordan, with a large group of people. Along the way, about 40 of their companions died before their very eyes. Victims of a bloody battle and missiles flying through the air without warning. Their children saw it happen too.
"So much blood," the mother said.
These people had not been poor in Syria. They were middle-class. Owned their own home. The father was a sculptor who sold his artwork to tourists in Damascus.
We asked them what they hoped for.
"Hope?" the sculptor's wife said. "There is no hope in the camps."
I felt the air leave the room. Like I had been punched in the stomach.
How can people live without hope? That question keeps rolling over and over in my mind. How can you live without hope?
No child should have to live without hope.
Even though I have been through tough times, I don't ever remember a day when I did not have any hope.
This. Is. Not. Okay.
But we did see glimmers of hope on the trip … brought by God through World Vision to desperate people.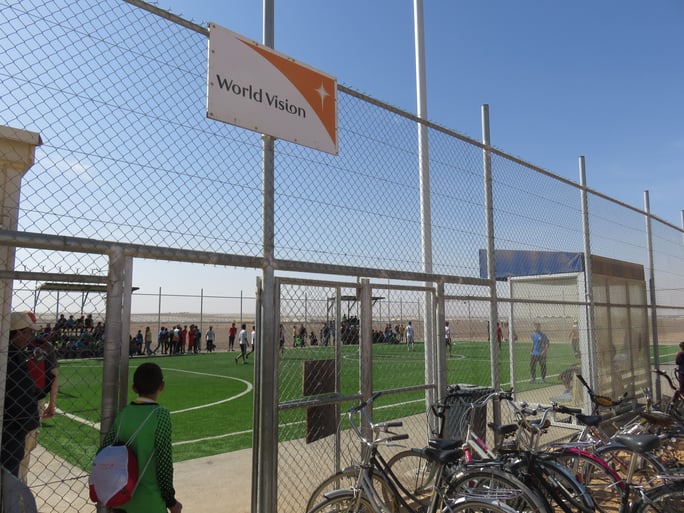 Child-Friendly Spaces, where children are free to play soccer and climb on playground equipment.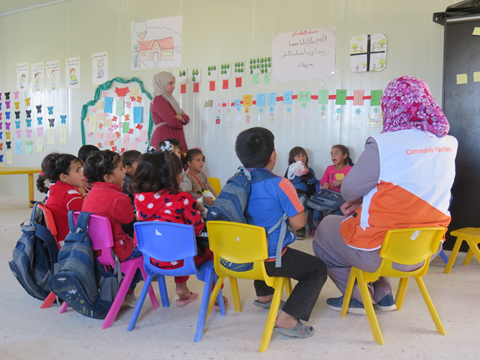 Preschools, where children can learn. And get a backpack of their very own filled with school supplies.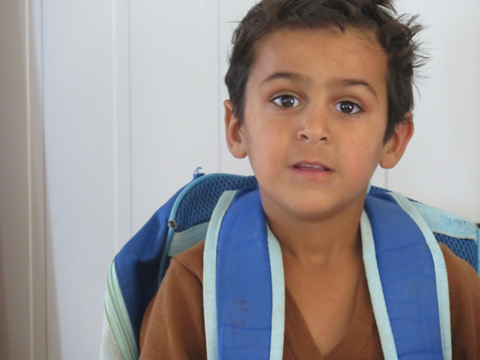 Many kids like their backpacks so much they won't take them off, even while sitting in class. A small reminder of a normal life.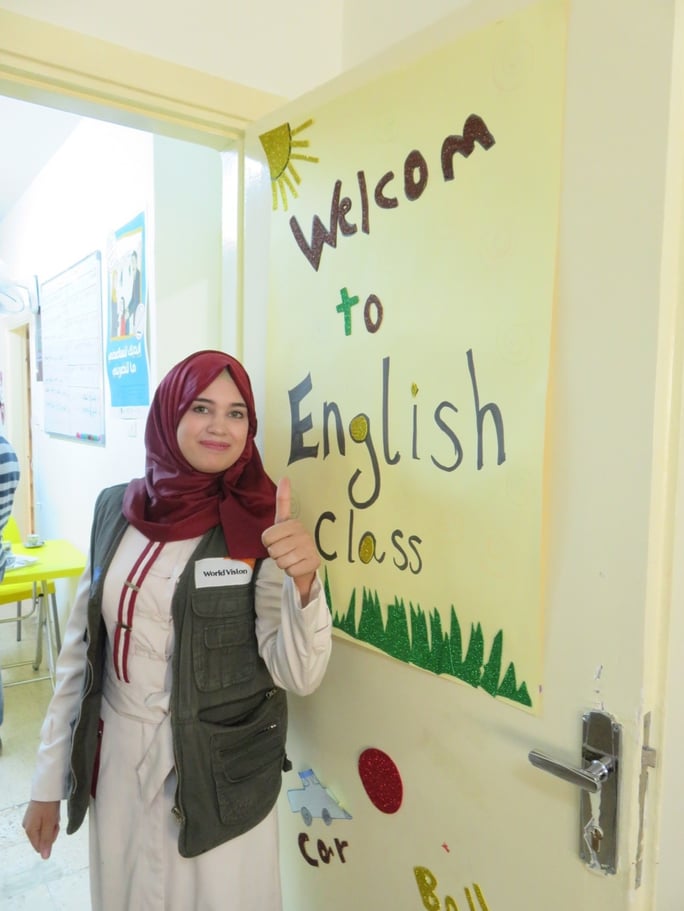 We visited a community center, where dedicated teachers work to help kids catch up so they can join regular schools. Many refugee children have been out of school for months, or even years, as their families fled to find safety and a place to stay.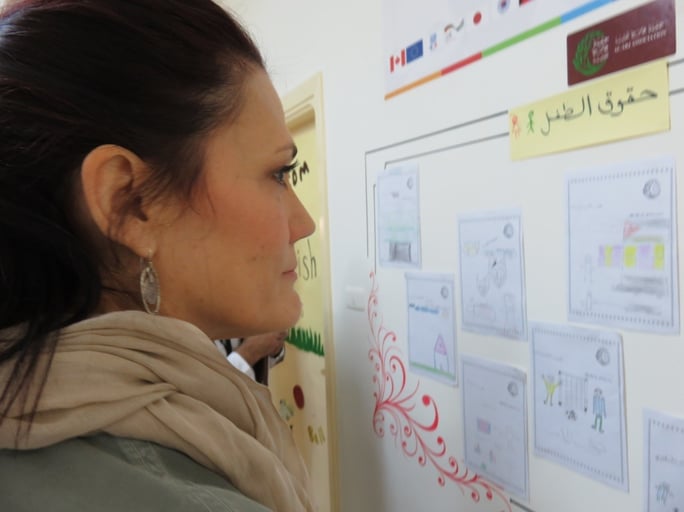 We saw pictures the children drew of their life in Syria. Many of them showed tanks and bombs and blood. A disturbing reminder that these kids have seen way too much terror.
Many children duck under their desks when they hear a plane or helicopter overhead, worried they may be in danger of a missile.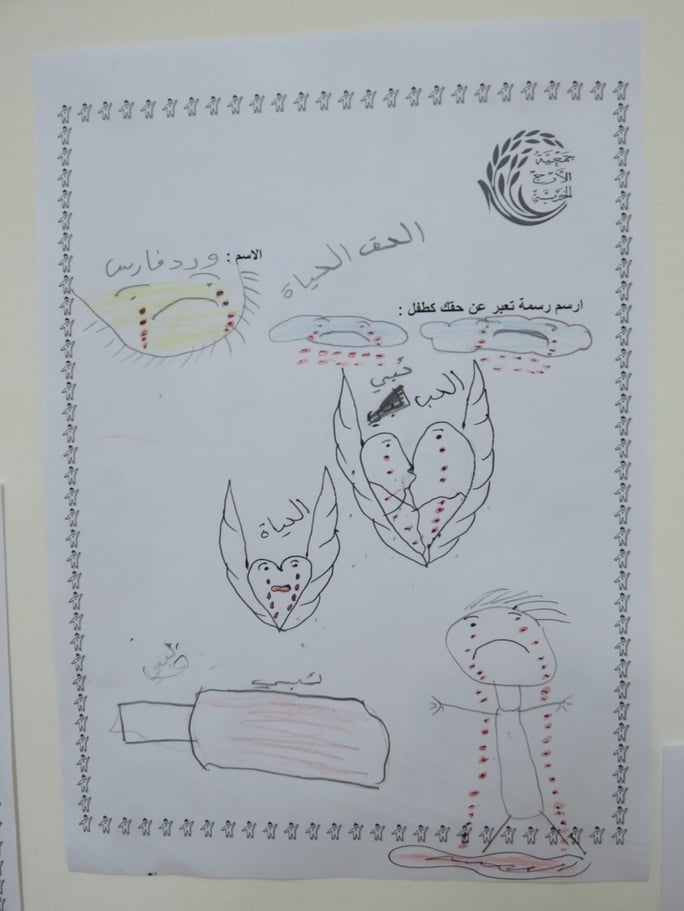 One picture in particular caught my eye. It had flying hearts with the words "I love my dad" written in Arabic. A child crying, tears of blood pooled around his feet. A drawing of the tank that killed his father.
My eyes filled with tears. Tears that I feared would not stop. This is too much. Too much for children to handle.
Yet these survivors have no choice. They have been forced from their homes. Their children have seen horror, up close and personal. Family members have died before their very eyes. Fortunes have been lost.
Life as they knew it will never be the same.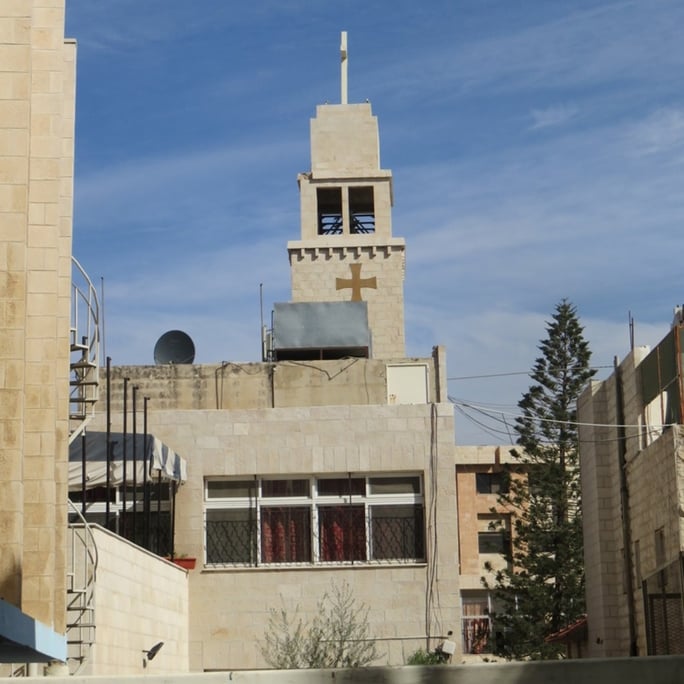 We met a kind priest. We visited his church, which supports over 500 Iraqi refugee families—many awaiting permanent placement in countries like the U.S. or Australia.
We talked with many of these families. We heard their stories of fleeing quickly when ISIS came through their Christian neighborhood. Foreign fighters were standing on truck beds, yelling through megaphones, telling them to leave, convert, or suffer the consequences of staying.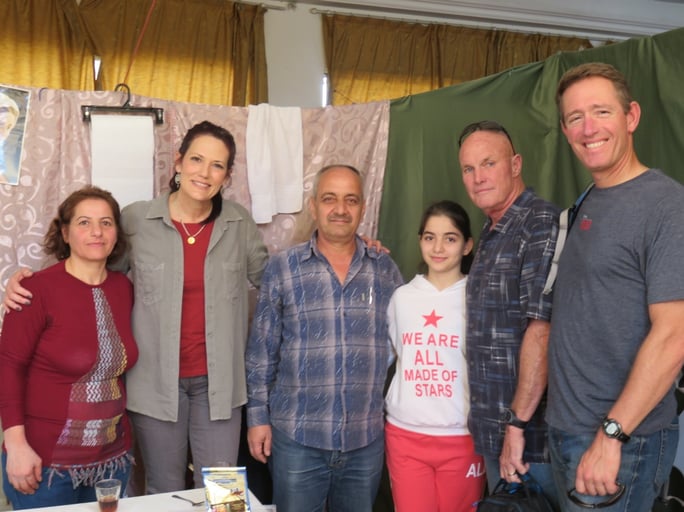 We met a family living in the priest's church awaiting placement in America. When they left Iraq, they had to move so fast they were unable to bring any documentation proving who they are or where they have come from.
And so they wait … unable to work in Jordan due to confusing laws designed to ensure that they don't try to make a permanent home there.
We cried with the group as a call came in from a family that had recently been placed in Melbourne, Australia. This family had made it! They were safely in their new home.
"Perhaps there is hope for the rest of us."
"Maybe we will be resettled too."
We could hear these silent thoughts by watching their faces and seeing their tears.
This trip put skin and flesh and bones on the refugee crisis. These people are no different than me.
Most were not poor before they left their countries. Many had owned homes. They were middle class. They had known success and comfortable living. Their children were safe and happy.
Then they lost it all.
Through no fault of their own. Pushed out of their homes. Forced to leave everything behind.
Sentenced to live in countries that don't want them.
It's a complex situation with no easy answers.
But our God is a very big God.
It is no mistake that He has laid the people affected by this crisis on Rich's heart.
And it is no mistake He has prompted both me and my husband Pat to action.
During World Vision's Every Last One conference, we were moved to get more involved … I, to tell the refugees' story, Pat to lead the Emergency Relief Signature Initiative.
So, we give our voice and our time to partner with World Vision in working God's plan.
For He truly is the only hope for a people and place that see very little hope.
I am excited to see what He will do and how this adventure will unfold. And I am hopeful. Because I know there is hope ... even when our eyes tell us there is none.