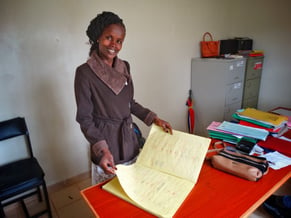 Inspector Juliet works to solve cases against children in the Child Protection Unit of the Kapenguria Police Station
Inspector Juliet Tuwei, 34, recalls an incident that happened six months ago. What she thought would be a restful evening, turned out to be one of her most dreadful. As she prepared to leave for the day, she received a distress call from a village chief informing her that three girls under the age of 18 had just undergone female genital mutilation and cutting (FGM/C). She dropped everything and quickly drove to the scene of the crime.
To ensure a proper investigation, she seized both the perpetrators of the crime and the victims so she could build a solid case.