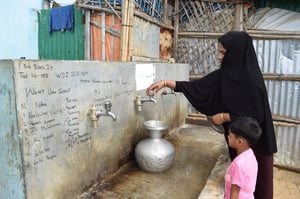 "My husband cleared bush covered hills, leveled the topsoil, and constructed our first tent with plastic sheets, and bamboo," says Johra (25), a mother of three young children. Since fleeing Myanmar in 2017, her family has sought safety in the Rohingya Refugee Camp. Johra's husband, Hakim Ali (29), owned a business, house, and boat in Myanmar before fleeing to survive. The refugees constructed shelters next to each other using bamboo and tarps. Due to the inability to construct latrines, the camp environment quickly became very unhealthy and malodorous.
Johra's shelter consists of two chambers and a kitchen and can only be reached by walking around 200 meters from the foothills. "From the beginning, my husband and I had to trek down and up the hill numerous times a day to acquire food, cooking fuel, and water," says Johra. The Rohingya refugees regularly developed diarrhea, cholera, and dysentery after drinking water from dirty wells. "Rumaina was diagnosed with diarrhea when she was 1 ½ years old, and she had to spend three days in the health post to recover fully," says Johra about her daughter.
Collecting water was arduous. During the day, there would always be a crowd; therefore, Johra would have to wait for 2-3 hours to get water. "I attempted to get water after nightfall in a less crowded area, but I was concerned about sexual harassment," says Johra. "It was dangerous to leave my children at home unattended to fetch water. It was difficult to carry a small child in my arms while also holding the water container in my other hand. Because fetching water took so long, I could not feed my little children adequately." The family could only bathe and wash clothes once a week.
World Vision is working to improve access to clean water and living conditions in refugee camps through the WASH (Water, Sanitation, and Hygiene) programs. "This includes pipeline delivery of chlorinated water from the pump house to the tap stand, and distribution of purifying tablets with water from tube wells located outside of water network areas. We teach hygienic practices and behaviors on water collection, preservation, water stewardship, and solid waste management to keep the camp clean," says Nowshad Akram, the World Vision's WASH Manager.
"While we served the community, we taught the community people that the coronavirus doesn't move by itself, but people move it, so we need to stop it moving," says Ayesha. To keep hands coronavirus free, Ayesha and her peers demonstrated proper hand washing techniques and encouraged families to use soap or sanitizer.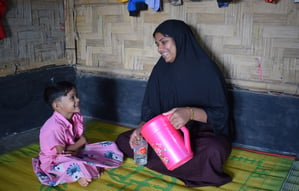 Camp residents now have access to clean water. As a result, waterborne infections have become far less common. They all have enough clean water for bathing and washing clothes every day. "I am overjoyed that I can fetch water in a moment from my doorstep. My husband and I can now spend as much time as we want with our children. My children are no longer skipping meals," says Johra.
Johra, trained by World Vision, works with girls and women in her camp. World Vision provided pit toilets, bathrooms, trashcans, handwashing devices and menstrual hygiene kits. "During the family visit, I teach the girls about usage of sanitary pads and their disposal, clean water, using latrines with sandals, and washing hands before cooking, before feeding a baby, before eating, and after using latrines," says Johra. "Because of the placement of waste bins in every corner, everyone has developed the habit of dumping trash in them. The camp remains clean. Because of installing toilets in every refuge, no one defecates in open spaces, resulting in an odor free environment." Johra adds, "Thank you to World Vision for providing clean water and a safe environment. We will remain healthy in this camp until we return to Myanmar."