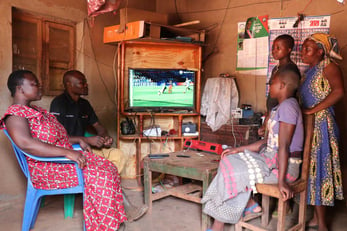 Driving a winding dusty earth road that snakes through undulating topography, one gets to Khokho Village, where Jeremiah Banda, 46 hails. Married to Evelyn and the father of four, Jeremiah is one of the participants of the Transforming Household Resilience In Vulnerable Environments (THRIVE) Project in Nthondo, in Ma-lawi's central region. "You may not believe me, when I say, I used to struggle with life. Three years ago, my family and I were in a pathetic situation. We struggled and had no tangible source of income. We could hardly afford three meals a day all year round," says Jeremiah. For visitors, this may sound like a joke but residents in this community can attest to Jeremiah's struggle a few years ago.
In a twinkling of an eye Jeremiah's life turned around. It started with the Empowered World view (EWV) training under the World Vision THRIVE project. For Jeremiah, the training blew his mind, and he was completely transformed. He never thought that by farming, one could have his life changed for the better. He regarded the village as a place for those whose future and livelihoods were doomed and hopeless. He was satisfied with growing one acre of corn and 0.5 acre of ground nuts in a year. He had accepted that during lean periods, he would need to find other work for survival.
After the EWV training, he engaged in a serious talk with his wife. Sharing how his mind was changed through the training and that he felt it was time to make farming a business. He shared how he had seen people undergoing economic transformation through farming after the visits he made to other people's fields as part of the training.
After thorough discussions, Jeremiah and Evelyn resolved to start doing farming as a business. In that first year, they doubled the ground nut and corn plots and sold a greater part of the harvest. The next year, he increased the acreage of ground nuts to 1.5 and 2.5 for corn. He also joined Cheka, a local cooperative to grow ground nuts under the seed multiplication program. He earned about $ 2,320 out of which he invested about $ 800 in a grocery shop as a way of diversifying his in-come streams. He used the other money to build an iron roofed house, bought goats and chickens and other household items.
Jeremiah continues to dream big and has become a force to reckon with in the area. H is one of the lead farmers under the THRIVE project. "As a lead farmer, I mentor 25 farmers." Joseph Banda, 39, has learned some modern farming technologies from Jeremiah such as sasakawa (planting one seed every 25 cm), conservation agriculture, contour ridging and natural tree regeneration.
Life has changed for Jeremiah's family. Unlike before, they eat three meals a day. Jeremiah boasts of having daily cash. His homestead doesn't look like one in a typical rural village. "It is like a dream for me. I have multiple sources of income and now I have cash on daily basis. I have solar powered electricity and even bought a TV that also serves the village as people flock to my house to watch local and international football games," he says. As he narrates, a flicker of a smile radiates from both Jeremiah and Evelyn.