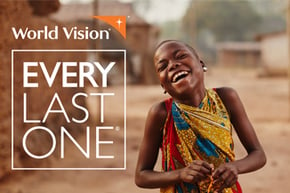 In Rwanda, about two-thirds of the population are farmers with very small plots of land. At least half of these farmers are women. World Vision, through its THRIVE project, has helped to organize small groups of farmers into savings groups so they can access small loans. This helps ensure they can invest and grow their businesses, moving themselves out of extreme poverty. The "Twunganirane" Savings Group (meaning Complementary), was started through the THRIVE project. These farmers have been connected to World Vision's microfinance arm, VisionFund, and have already received their first loan.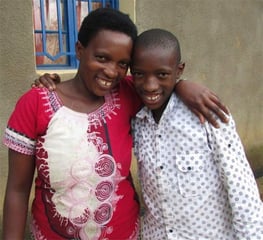 Christine and Samuel at home
Christine Nizeyimana, 38, is the chairperson of this savings group and has emerged as the model farmer. She attended a study tour through World Vision, aimed at showing members a modern way of rearing chickens for eggs and meat. Through this visit, Christine caught the inspiration to start her own poultry business. "It was after this training that I felt a real change of mind and decided to go for my dream. I believed and convinced my husband that this business will work, and indeed it worked," says Christine.
"I started with 40 chicks, and waited for them to lay eggs, and started selling eggs. From that time, our lives and family's condition changed a lot, and my husband started appreciating," Christine adds. "I asked my husband if we could participate with the entire savings group and get a loan from VisionFund, so we can expand our poultry business, and he allowed me, because he had started seeing the benefits," Christine shared. "After receiving a loan from VisionFund, we expanded our farm. We currently have 450 chicks and 250 chickens. We also have a daily production of 700 eggs per day, and this blessing has brought a huge change in our family," Christine adds. The total production of eggs gives Christine's family an income of about $1600 per month. This income has helped the family to build a six-bedroom house equipped with electricity and water.
Their son, Samuel, 12, a World Vision sponsored child, World Vision, was able to complete his primary education. "I am very hopeful that I will pass my final year exam of primary education, because Mommy provided everything I needed before sitting for the exams. I ate eggs every morning before going to sit for exam and had all school materials I needed to pass well," says Samuel.
"Prior to joining the savings group…we never had a house, most times we had one meal per day, and our children were not as healthy and hopeful as they are today," says Christine. "World Vision has restored a sense of pride in me. I feel great that my husband acknowledges my contribution to the development of our family. We are a happy family, we love each other more and our children are healthy and doing much better in school than before," she adds.
"I am who I am today because of World Vision and the good leadership of my country. May God bless so much World Vision, that is all I can say," says Christine.