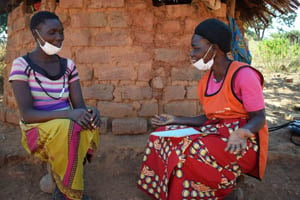 The wave of fear remains as the coronavirus continues to impact many lives all over the world. Forty-two-year-old Florence Hachiyona of the Moyo community in southern Zambia likens the COVID-19 era as "facing a double-edged sword."
"After hearing what the coronavirus can do and that it had reached Zambia, fear besieged me. I started [having] sleep-less nights. I thought it was over for me. Being HIV positive already, I fear contracting another virus because I would die faster and leave my children alone to suffer," says Florence, a mother of four.
Seated on a worn-out yellow container outside her small, grass-thatched kitchen, Florence gazes thoughtfully at the blossoming canopy of Lapageria flowers next to her. "I don't want to die now. I fear that if I contract the coronavirus, it could worsen my condition. That would be the end of me." She adds, "I fear for my unborn baby as well, whom I hope will be the boy I have longed to have for a long time."
Florence, like many other people in her community, have been living in fear but are drawing hope from Safe Motherhood Action Group volunteers like Jenala Mumbulu. Each volunteer receives time-targeted counselling (TTC) to equip them to reach out to mothers like Florence, who are not only expecting but also are HIV positive. "I thank World Vision for starting TTC way back…[so we are] also prepared for times as now when the corona-virus has come," says Jenala, 48. "We have not only reached out to mothers at their doorsteps with messages about safe motherhood but also about the coronavirus to safeguard the lives of expectant mothers like Florence, who needs me now more than ever before to give her hope."
Florence, who is two months pregnant and recently divorced, is determined to avoid contracting the coronavirus and continuing to live a healthy life. She draws hope from Jenala's messages that not all is lost.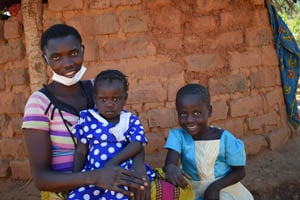 "After being counselled by Aunt Jenala a number of times, the fear is not as much as before; I ensure I follow her guidelines to avoid contracting the coronavirus," Florence says calmly. "Now I only look forward to bearing a baby boy who would protect me and the girls as I grow old," she says, as a big smile lightens her face.
Thanks to the support of generous donors, World Vision's TTC health program model has helped save the lives of mothers and unborn babies through volunteers like Jenala. World Vision also has trained the volunteers and medical staff about the coronavirus and provided them with face masks and gloves to protect themselves and the community members they meet as they educate people about the pandemic. Florence says, "With the knowledge I have now about the coronavirus, I have hope that I will not die from the disease but will live longer and see my children grow into adulthood."