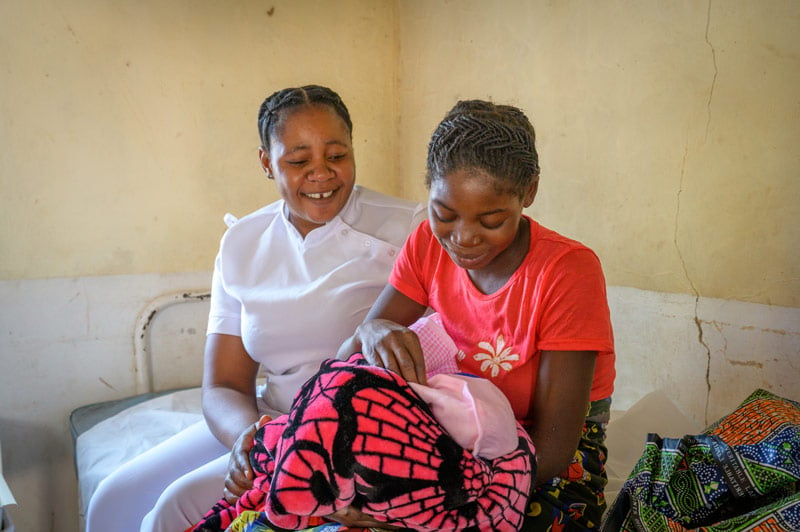 Nurse Joyce Nambela shows new mom Ireen Muma how to care for her newborn at home. (©2022 World Vision/photo by Laura Reinhardt)
World Health Day, on April 7, is an opportunity to celebrate God's work bringing better health and fuller lives to people in need while pressing forward boldly — believing a healthier world is possible.
I was 21 years old when my first son was born at a hospital in North Carolina. I held him tremulously, awed to meet this little one — this part of me that now lived in the outside world. He had thick, dark hair and his skin was as soft as sand-washed silk. He was also a little wrinkly — was that normal? It was all so new, and there was so much I didn't know.
When a nurse took him away to be washed, my eyes welled with tears. We were separate for the first time in nine months, and I felt strangely hollow and lonely. I was just me again, but as I got up to take a shower, I wasn't sure I was really myself, either. My body seemed foreign to me, my abdomen reminding me of a deflated balloon — and there was blood, swelling, and pain. Was this normal? I admit I cried a bit, salty tears mixed with the warm spray from the showerhead, but I emerged feeling better. Stronger.
The first moments of motherhood are tender and raw, filled with uncertainty, questions, hope, and a fierce new love. Yet for millions of mothers around the world, these emotions are heightened with a fearful reality. As many as 1 in 6 patients in the developing world get an infection at their health center, and these infections are responsible for half of the deaths of babies. This lack of adequate healthcare means that giving birth in the developing world is a threat to the life of both mother and baby — and carries a risk of death up to 20 times greater than in the U.S.
Yet it doesn't have to be this way.

Watch Margaret's Hope for a virtual reality experience in a health clinic in Zambia.
18,000,000 reasons to celebrate
When it comes to healthcare, World Vision has a proven track record of effectiveness. We've reached more health centers with clean water, handwashing facilities, infection prevention protocols, and training of healthcare workers than any other nongovernmental organization (NGO). This means that the miracle of birth is a safer experience for a mother and child, and more children are receiving the care they need to recover from childhood illnesses.
Our deep partnerships in rural communities widen our reach. As a result, when the World Health Organization (WHO) and UNICEF issued a call to provide clean water access and hygiene and sanitation improvements in healthcare facilities, we responded with a commitment larger than any other NGO: to reach 800 rural healthcare facilities serving 7.2 million people by 2021.
With God's help and the support of donors like you, we not only met that goal, but this year, we more than doubled it — reaching 2,000 healthcare facilities serving approximately 18 million people!
It's a difference Getrude Chibwe, a mother of four, experienced at the Nsombo Rural Health Clinic in Zambia.
Then and now: Getrude's story
In 2006, Getrude Chibwe was pregnant with her first baby. Knowing her time for delivery was near, Getrude began the 6 mile walk to the health clinic full of nervous anticipation. Like many health centers in rural areas, the clinic in Nsombo didn't have access to water: no borehole and no running water to clean or bathe. Whatever water was needed for an infant's delivery had to be carried there, usually by the laboring mother-to-be. (A lack of clean water affects half of the rural clinics where World Vision works.)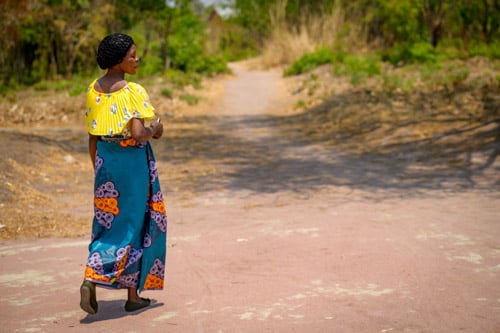 Getrude walked 6 miles to the health clinic to give birth, but the clinic's lack of water in 2006 posed serious health risks for her and her baby. (©2022 World Vision/photo by Laura Reinhardt)
With a long walk ahead, Getrude hoped to find water closer to the clinic, but it was 7 p.m. when she arrived, and her labor had begun. Just after midnight, Getrude delivered her firstborn son and cradled him in her arms, but the lack of water to wash up was distressing. "I didn't have water to clean the place where I gave birth from," she said. There was no water to bathe either.
Her precious early moments with her son were filled with concern. "It was a very sad time because after I gave birth … the next person would give birth without cleaning [the area] and [that] could lead to infections." Getrude's concern was justifiable. A lack of clean water, adequate sanitation, and handwashing facilities at healthcare centers places 1.8 billion people at a greater risk of infection and needlessly takes the lives of millions of babies and mothers every year.
Less than 24 hours after giving birth, Getrude was discharged from the clinic. She had yet to bathe and wouldn't be able to do so until after she reached home. Carrying her new son, Getrude set off to walk the 6 miles home, exhausted.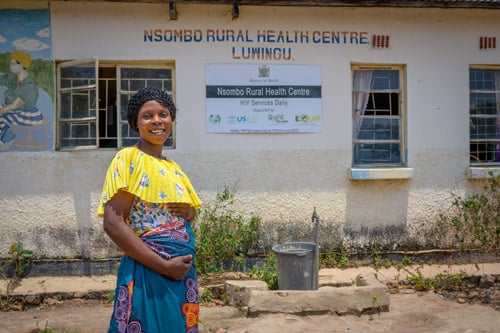 Getrude stands near a tap at her health clinic, where clean, running water now helps prevent infection and improves quality of life. (©2022 World Vision/photo by Laura Reinhardt)
Sixteen years later, when Getrude delivered her fourth child, it was a completely different experience. Now the Nsombo clinic is fully equipped with supplies and, best of all, it has running water — a cause for the whole community's celebration. Getrude smiles because now "water is at the doorstep."
Lubasi Chiinga, a mother of two, agrees. "I want to thank the people who provided this water because it has made the life of a mother easier. Everything I need is in the facility."
Boldly believing
This World Health Day, as we rejoice that more women and children are receiving better healthcare, we also pause to reflect on the babies and mothers whose precious lives are lost to infections caused by a lack of clean water, adequate sanitation, or handwashing facilities at their health clinics. More work needs to be done, and as an experienced Christian humanitarian organization, we're called to step into it.
Zambia and Niger have high rates of maternal and newborn deaths and great needs in their health clinics. With over a decade of experience in both countries, World Vision is well equipped to answer these needs. We can provide a health center with clean water and handwashing facilities at all points of care, showers and latrines, infection prevention, and training of health personnel for an average of $125,000 per community. Together these improvements will help save so many lives.
With your help, we can reach every healthcare facility everywhere we work in Zambia and Niger, and upgrade 3,000 health clinics to improve health for an estimated 30 million people by 2030.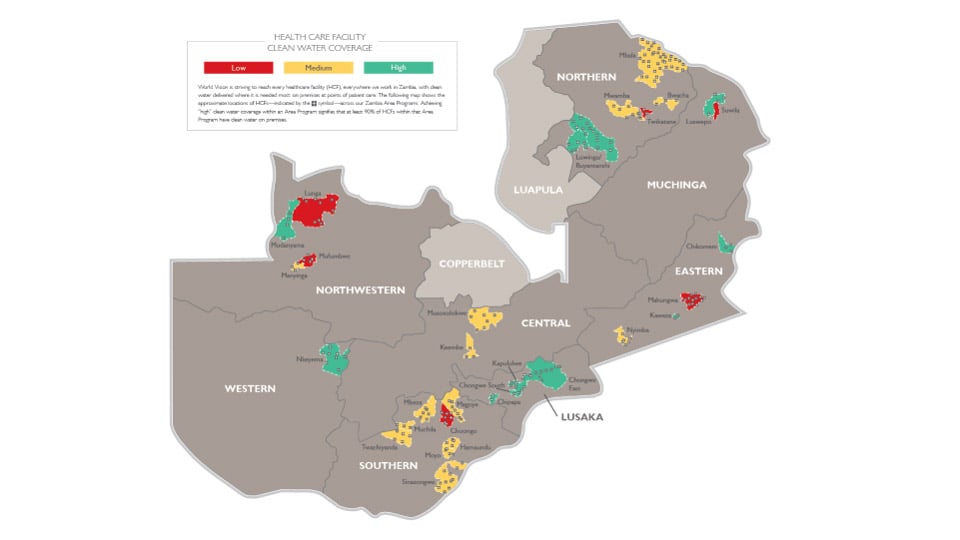 Together, we can expand clean water access to all clinics across Zambia.
Would you prayerfully consider partnering with World Vision and donating to the Global Health Fund? For every $1 given to the Global Health Fund is combined with funding from grants, child sponsorship, foundations, and corporations, to deliver an impact of $4.50.
You can help more mothers and children experience fuller lives as God intends.