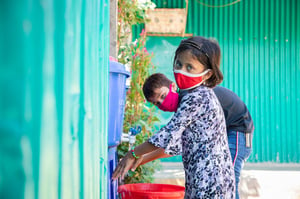 This past year drove home the importance of handwashing. We're buying soap by the gallon and scrubbing our hands a little longer as we do our best to stay safe from COVID-19.
While the U.S. has taken strides in combating the spread of the virus, millions of people living in the world's toughest places remain defenseless — largely because they lack clean water.
This is especially true in the Rohingya refugee camps in Cox's Bazar, Bangladesh, home to about one million people fleeing persecution in Myanmar. In the world's largest, most congested refugee settlement, living conditions are unhygienic and medical care is nearly nonexistent. Clean water is hard to come by, making those already facing hardship even more vulnerable. Not only is dirty water unsafe for drinking, it also prevents effective handwashing — creating the perfect storm for the spread of disease.
A devastating fire swept through the camps in March, leaving hundreds of people missing, tens of thousands of refugees displaced from their shelters, and vital sanitation systems destroyed. This emergency further exacerbated the urgent need for clean water.
Caring in a crisis
Since the beginning of the refugee crisis in 2017, World Vision — in partnership with the Bangladesh government and U.N. agencies — has been supporting 265,000 Rohingya people in 23 sub-camps in Cox's Bazar and in neighboring host communities with access to clean water and sanitation facilities, and promoting healthy handwashing behaviors. Together with our donors, we're helping equip displaced Rohingya children and families with what they need to survive and begin rebuilding their lives.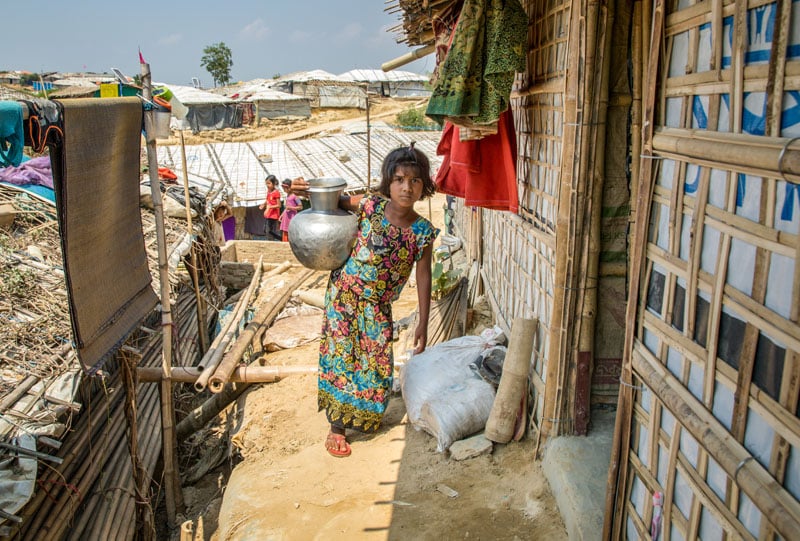 But the global water crisis extends far beyond these refugee camps in Bangladesh. One out of every 10 people on the planet does not have access to clean water, and 3 billion people don't have a place in their homes to wash their hands with soap and clean water. In the areas where World Vision works, only half of healthcare facilities have water and only 16% have even basic handwashing facilities with soap and water. Without clean water, healthcare workers are forced to make do with what they have in unsanitary, unsafe conditions.
Our staff are committed to helping communities get clean water and learn healthy habits that reduce the spread of disease — whether it's cholera, typhoid, dysentery, or COVID-19. World Vision is the leading nongovernmental provider of clean water in the developing world, reaching one new person with clean water every 10 seconds and also reaching one new person every 10 seconds with education on healthy handwashing behaviors.

Better hygiene — better health
April 7 is World Health Day — a day dedicated to focusing on building a fairer, healthier world. At World Vision, we focus on this every day. In 2020, we reached 3.4 million people with sustainable sources of clean water, 1.8 million people with water during emergency situations, and 2.7 million people with improved sanitation. To prevent the spread of disease, we promoted healthy hygiene habits to 8.2 million people and provided handwashing facilities to over 4,700 schools. We constructed handwashing facilities at nearly 2,500 healthcare clinics to protect frontline healthcare workers. And nearly one million households gained access to handwashing facilities.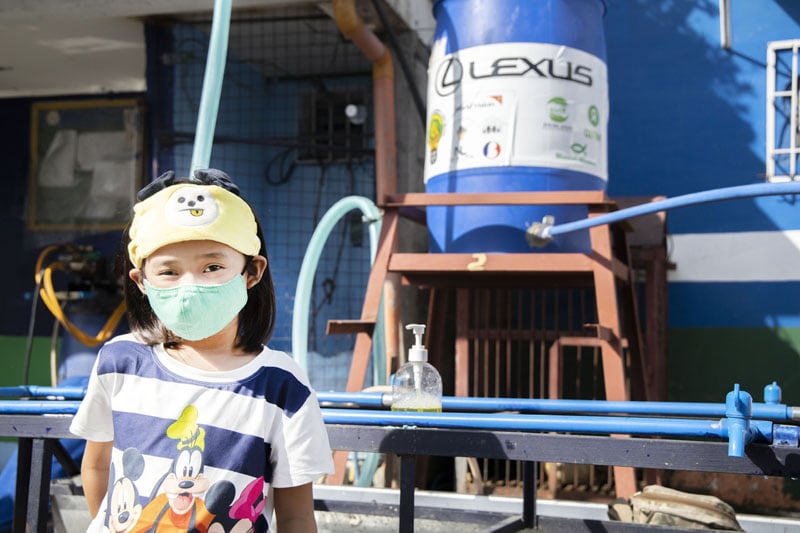 But to continue building a healthier world, we need you. When you donate to World Vision's Global Water Fund, your $1 investment, combined with funding from grants, child sponsorship, foundations, and corporations, will have an impact of $5 — meaning your donation multiplies five times.
When children and families use clean water, live in environments free from waste, and wash their hands with soap, they're more likely to be well educated and grow up with good health and food security. Honor others on World Health Day by helping vulnerable families access clean water. You'll not only share God's love — you'll share the blessings of good health.