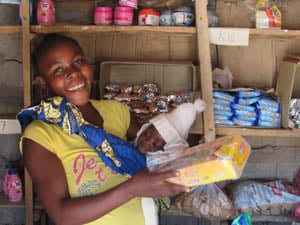 "I was scared of losing my children to malnutrition," says Charlotte Ka-bili, a 19-year-old refugee from the Democratic Republic of Congo, which neighbors Zambia. Charlotte is an adorable young mother of three, two girls and a boy, ages 6 months to 6 years. She lives in a refugee settlement in Northern Zambia with over 14,000 Congolese nationals who fled their country due to civil war.
"I never ever thought that I would one day run away from my own country and become a scrounger in another. I had big dreams for myself and my family," she says.
As a child, Charlotte longed to become a business-woman after completing her education. Sadly, her hopes were shattered when she lost her parents and was forced out of school into marriage at the age of 13.
Charlotte arrived in Zambia three years ago while expecting her second child. Unfortunately, her husband did not make it. Although she had heard about refugee life, she had no idea just how challenging it would be. "When we got here, we were given a tent, two blankets, a mat, some pots, a bucket, a torch and monthly food rations which included a 7.5kg bag of beans, three 750ml bottles of cooking oil, 500g of salt and a 75kg bag of corn meal to start our new life," she recalls.
While Charlotte was happy about being in safe place, she could barely make ends meet for her family. "I had no source of income and the food ration was never enough to see us through the month. I had to exchange some of our [other] rations [for] groceries," Charlotte explains.
A year ago, problems forced Charlotte into an affair with a married man who abandoned her soon after she fell pregnant and gave birth to twins. "Life was hard. We sometimes lived on a meal a day or slept on empty stomachs. Three of my children ended up having severe malnutrition and were in and out of the hospital. One of the twins died from malnutrition," she says.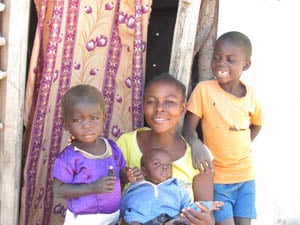 Fortunately, Charlotte's circumstances dramatically changed for the better when World Vision's Economic Empowerment work came to the area. Through its robust livelihood program, World Vision gave her and other vulnerable families in the camp start-up capital of $30, plus training in financial literacy to help improve their livelihood. "It was a miracle," she says. Upon receiving the grant, Charlotte decided to follow her childhood dream of becoming a businesswoman and started a small grocery store. She also used part of the money to buy some locally grown nutritious foods for her children. In no time, Charlotte was making about 10% of her initial capital per day and was able to provide for her family. In less than two months, her children were on the road to recovery.
"I am very grateful to World Vision for their kindness. Their support saved me and my children from the hand of death. I am no longer a laughingstock in this camp. I am now respected and looked upon by many," she adds, smiling.