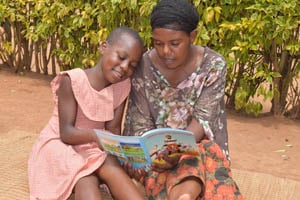 Before 9-year-old Jolly started going to the reading camp, she could hardly read a word. Her grades were poor and this affected her results for her various subjects at school. Just like many children in her community then, reading seemed like the most difficult task in their little world, negatively affecting their education.
Jolly didn't enjoy school and she could hardly review her book after school hours or do homework on her own because she couldn't comprehend. As a sponsored child in Akagera, Jolly was well positioned to benefit from World Vision's Unlock Literacy program.
World Vision introduced community reading camps in Jolly's community. This is when Jolly's education journey began to make huge positive strides. "When I joined the reading camps, I learned how to read. In the reading camps, we read fascinating children story books. We pray, play, sing, draw, write, read and have fun while at the camps. I am always excited when we have sessions. I can now read any book. I read to my little brother and I am teaching him, too, so he can be a great reader and have good grades like me in school," says Jolly.
According to Jolly's mother Betty, her daughter was very shy in class. Her self esteem in school was low because of her inability to read or comprehend what she was being taught. "My daughter couldn't do homework on her own. Her grades were poor. She didn't enjoy school but now she is excited about learning. She enjoys reading. It gives me great pride to see her read with so much ease, do homework on her own and teach her little brother. She is no longer shy, too. I am so grateful for the great positive impact the community reading camp sessions have brought about. Jolly and many other children in our community have greatly improved their literacy skills," says Betty.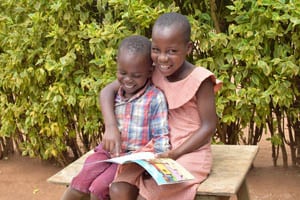 In Jolly's community, there is a striking difference between the children who attend reading camp sessions compared to those who don't. Children who attend the reading camp sessions are able to read just about anything and their grades are good in school. Most of the children who don't participate in the reading camp sessions can barely read a sentence and their grades are poor, showing that these sessions play a key role in improving literacy for children.
Jolly wraps it up best. "I have learned how to read perfectly through the reading camp sessions. I do enjoy reading and these days I am even among the top five in my class," she says. Jolly's reading abilities are unlocking her potential for a better life.