As we rejoice in Jesus' resurrection this Easter, our hope is for even more children and families to know God through His Word. Though the hardships caused by the COVID-19 pandemic are certainly not behind us, nothing can stop God's church from celebrating our risen King this season. May the signs of spring and the glorious global celebration of God's immense love for us in His Son refresh our hope.
---
"As the rain and the snow come down from heaven, and do not return to it without watering the earth and making it bud and flourish, so that it yields seed for the sower and bread for the eater, so is my word that goes out from my mouth: It will not return to me empty, but will accomplish what I desire and achieve the purpose for which I sent it."
—Isaiah 55:10-11 (NIV)
---
As Christians, we view God's Word as a living gift to us, achieving His purposes in our lives. But imagine if you didn't have any way to access God's Word for yourself — no dogeared copy sitting on your nightstand, no app sending you daily Scripture, no children's picture Bible to make the stories come alive for little ones.
When families are struggling to make ends meet, owning a Bible is often an unaffordable luxury, so children and adults must rely on local church leaders to guide their faith. They don't have an opportunity to benefit from the study of God's Word for themselves. Even many ministry leaders around the world don't have their own Bibles to use for study or teaching.
But as we seek to witness to Jesus Christ — by life, deed, word, and sign that encourage people to respond to the gospel — we want even more of the people we serve to grow in their knowledge of God's love for them. When they understand their identity as image bearers of God, created by Him for a purpose, their whole outlook on poverty and their abilities changes.
We want all people, in all places where we work, to be able to say with the psalmist, "Your word is a lamp for my feet, a light on my path" (Psalm 119:105, NIV). Restored relationships with God are the foundation for restoration in every other part of life in the journey out of poverty.
This Easter, help provide 8,000 families with a new Bible. It costs just $12 to give a Bible to a family in need, and on average, five people benefit from the gift of one Bible. Together, we can help 40,000 people experience the blessing of reading God's Word for themselves.
---
The grass withers and the flowers fall, but the word of our God endures forever.
—Isaiah 40:8 (NIV)
---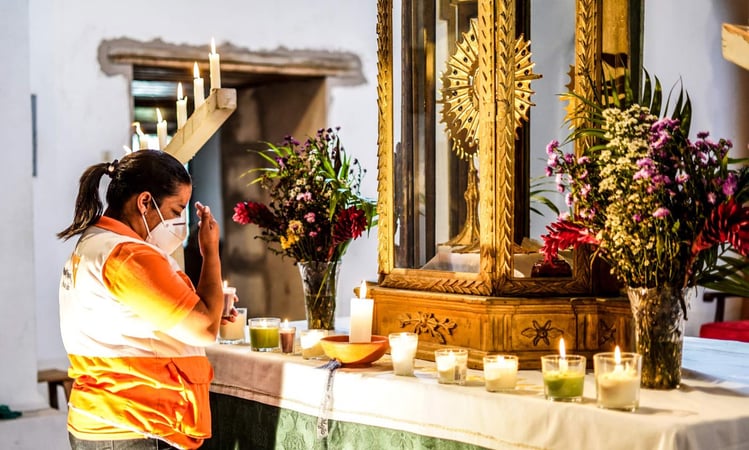 With your help, families can receive Bibles and churches can strengthen their ministry programs. By equipping local churches to grow in the knowledge and wisdom of Christ, children and youth can experience the richness of God's love and develop hope and resilience in challenging circumstances like those of the past year. And by making sure families have Bibles, parents can lay a strong foundation of truth for their children's lives, so they can "start children off on the way they should go, and even when they are old they will not turn from it" (Proverbs 22:6, NIV).
Every word of God is flawless;
he is a shield to those who take refuge in him.—Proverbs 30:5 (NIV)