On the International Day of Families, the United Nations highlights the importance of caregivers in the family — parents, grandparents, and siblings — and of educating and empowering them to protect and invest in their children.
World Vision is committed to preserving families worldwide — helping them not just to survive, but to thrive in some of the world's most broken places.
About 10 percent of the world's workers live below the extreme poverty line of $1.90 per day. In emerging and developing countries, 30 percent live under the moderate poverty line of $3.10 per day. For these families, shocks like ruined crops or armed conflict can have a severe impact on their ability to meet daily needs.
Two World Vision program models — THRIVE and Empowered Worldview — are proving invaluable in delivering lasting impact in helping families out of poverty. Paired together, they can create a stabilizing effect in communities that have historically struggled with food insecurity and a lack of economic opportunities.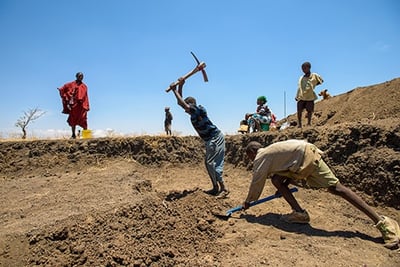 Farmer Aloisi digs a water pan with his family in Mbyuni village in Tanzania. Changing and dwindling rainfall patterns threatened his livelihood.

"We had given up. We were living in a hopeless situation," says Aloisi. However, thanks to f

arming techniques taught by World Vision, they can now capture the meager rainfall in the water pan to irrigate their farm.
Thriving in Tanzania
There's no question that smallholder farming in sub-Saharan Africa is a tough way to make a living. Farmers are at the mercy of an unpredictable climate, one with increasingly variable rainfall and frequent droughts that kill crops and livestock. Heavy rainfall that causes flooding also can destroy crops — and family assets.
These smallholder farmers have little or no access to technology or training. They also lack basic financial services. And they frequently face destructive cultural values.
All of this leads to a life of persistent, extreme poverty that robs them of their worth and hope for the future.
But World Vision is helping to reverse this course with a comprehensive and systematic approach to farming: THRIVE (Transforming Household Resiliency in Vulnerable Environments). This program is empowering the most vulnerable households to move from dependence to dignity.
THRIVE is helping farmers increase production and profits to improve the well-being of their children. It addresses solutions in three critical areas that present interlocking challenges addressed by the Empowered Worldview model:
The end-to-end business of smallholder farming — helping people transform the risks of farming into opportunities to increase their incomes
Natural resource management — helping people adapt to a changing environment
Emergency management — helping people absorb unexpected events and stresses, which keeps them from falling too far in the event of a crisis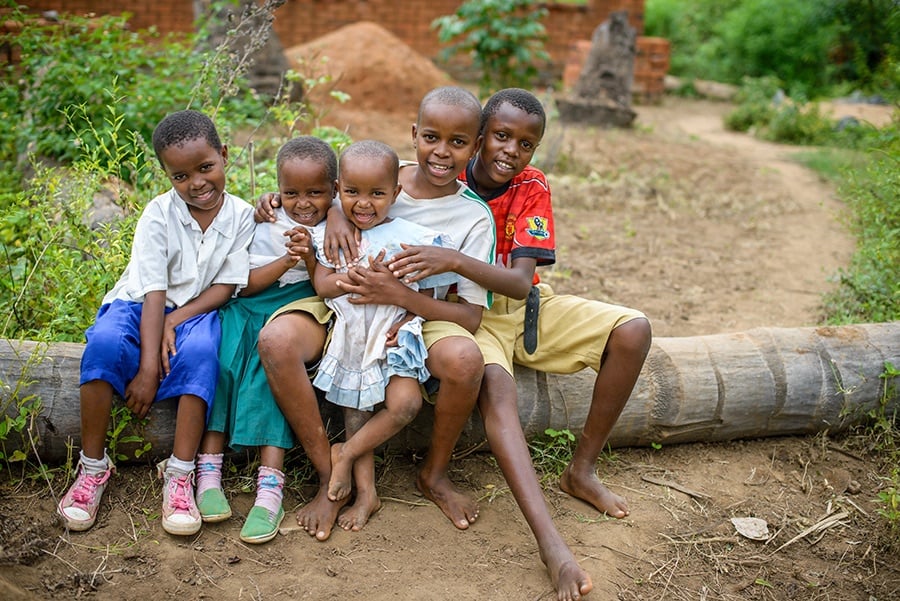 Children in the Makindube district of Tanzania are happy and healthy thanks to World Vision's THRIVE program.
A five-year, $10.8 million THRIVE pilot program in the Makindube and Babati districts of northern Tanzania that started in 2013 has now been extended to 2020 due to its initial successes.
And THRIVE programs are now beginning in Honduras, Malawi, Rwanda, and Zambia.
This is a mission to empower families to provide healthier lives for their children, including better nutrition, more opportunities to attend school, and safer homes and shelters.
Living and working with an Empowered Worldview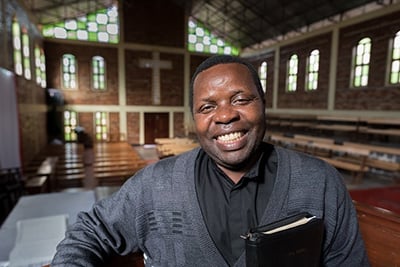 Pastor Assiel Musabyima has been trained in the Empowered Worldview Curriculum and is in the process of teaching other local pastors and farmers. He says "Because of not knowing God, the people couldn't make an effort to change and to get out of that poverty...The key is for people to transform the way they see themselves so it leads to healthy actions toward a better future."
When people actually believe their lives have value, this confidence is reflected in their behavior and their ability to affect change in their communities. Unfortunately, a worldview of hopelessness and dependency characterizes many countries where World Vision serves, limiting people's ability to break the cycle of poverty in even the smallest ways.
Empowered Worldview training is World Vision's model to help people understand their own worth and how they can utilize their full potential by employing their talents and the resources available to them.
This training targets particular influencers in a community, including faith leaders, farm-association leaders, saving groups, and leaders of women's and youth groups. Core curriculum themes cover identity, vision, compassion, relationships, and faith.
Based on biblical principles, Empowered Worldview is now being adapted to work with Muslim and Hindu communities and in areas affected by conflict, such as Burundi.
THRIVE and Empowered Worldview combine to instill hope and courage among community leaders and families eager for change.
Participating in the Empowered Worldview training was a turning point in Hamadi Mussa's life. He and his family live in Babati, Tanzania, and struggled to make ends meet due, in part, to negative and fearful attitudes toward new ideas and change. Believing his new business idea would fail always held him back. The training taught him new farming methods, such as planting in rows, weeding, and applying fertilizer to crops. It challenged his negative beliefs and convinced him there are opportunities all around him and that he can succeed. He emerged hopeful.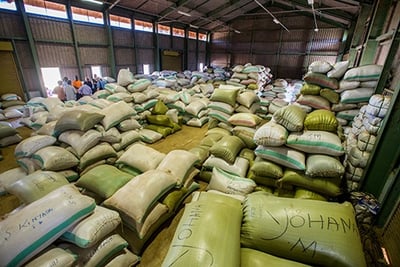 Warehouse in Makindube, Tanzania, where farmers store their SARO 5 rice, introduced through the World Vision THRIVE pilot. By warehousing their rice, the farmers are able to market it at the best time and sell cooperatively to receive the highest possible price. The warehouse also provides protection from pests and the weather.
Hamadi's family now is earning 10 times what they used to earn. Because of that, the children are well-fed, consistently in school, and sleeping on good mattresses with mosquito nets, and Hamadi is building a new house and another to rent out for additional income.
"I am a change maker in my community," he says. "I have dared to break the cultural barriers and beliefs that have prevented young people from doing more. Now they are coming to work with me and to learn from me."
While incorporating the Empowered Worldview curriculum into World Vision's THRIVE projects in Zambia, Malawi, Tanzania, Rwanda, and Honduras, we also are working to significantly expand the reach of this life-changing program throughout Africa and Asia. Projects are currently underway to expand Empowered Worldview into Mali, Burundi, and India.