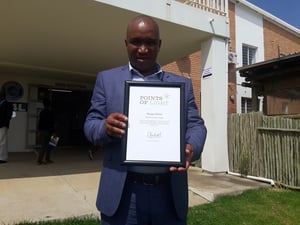 The Empowered Worldview is a biblically-based training and action learning curriculum created by World Vision and other partners. Its central purpose is to build a deep acceptance and understanding that all humans have been endowed by their Creator with the ability and capacity to lead productive, creative lives – from earning and income and providing for their families, to family roles and relationships, and from caring for others in the community to caring for creation - and to combat a dependency mindset. The Empowered Worldview uses both a teaching curriculum as well as short-term and long-term action learning through special projects and engaging in empowering activities such as Savings Groups.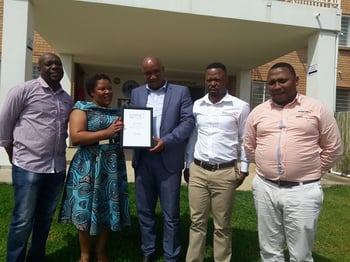 Pastor Bonga Mzini supported by his wife officially receives the Commonwealth Points of Light Award. World Vision staff were also present to witness this important occasion.
The Empowered Worldview began in Tanzania as World Vision and its partners were putting in place activities to build improved and resilient livelihoods for smallholder farmers – work we call World Vision's THRIVE program. It was immediately clear that without building an antidote to a disempowered dependency mindset the work with smallholder farmers would not succeed. It needed a rock-solid foundation.
Once the Empowered Worldview curriculum was published, it quickly spread from its origins in World Vision's THRIVE programming in Tanzania to many other countries – including to the countries of Southern Africa. In Lesotho, some of the people using the Empowered Worldview are getting some ROYAL attention.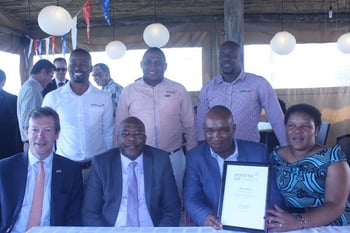 The British Deputy High Commissioner (i.e. Ambassador), Mr. Ben Llewellyn-Jones, OBE and Lesotho's Minister of Foreign Affairs were also present.
Pastor Bonga Mzini from World Vision Lesotho's Mokotjomela ADP was recently presented with the Commonwealth Points of Light Award. Signed by Queen Elizabeth of Great Britain and presented by the British Deputy High Commissioner at the British Consulate in Lesotho, the award was presented at a ceremony that took place in the presence of Lesotho's Minister of Foreign Affairs plus a number of key World Vision staff.
Pastor Mzini was recognized for his dedication to serve the most vulnerable, and to do that in concert with other pastors in the World Vision Area Development Project (ADP).
Pastor Mzini was trained in many models of community engagement by World Vision. He clearly took to heart the Empowered Worldview training and its curriculum. Besides leading his church "flock", he has literally embraced another flock. He and 10 other pastors now run a chicken egg business, whose purpose is to earn money to feed 300 children. Their goal is to expand to feed 1000 children.