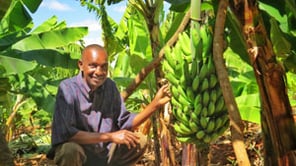 Ramadhani has increased his production of bananas, providing food and income for his family
A drive to Gidabagar village opens up into a beautiful scenery of hills and small rivers. Many farmers can be seen working in their farms this time of year as they are preparing for the next farming season that begins around November to January with short rains.
Ramadhani Doho (60) is one of those farmers preparing for the season. One difference between Ramadhani and the other farmers is that he is farming and harvesting all year round. This was not the case a few years back, because Ramadhani depended on seasonal farming of maize and pigeon peas for food and for sale.
Then, the harvest from his fifteen acres was only seven bags of pigeon peas and ten bags of maize due to weather changes. Being a father to sixteen children (eight boys and eight girls) and a husband, it was very hard for Ramadhani to provide for his family and it became normal for the whole family to go a day with only a single meal of ugali and beans. "Going a day without food or having only a single meal is something we had accepted, and the children never complained," says Ramadhani.
Ramadhani was among the first people in his village to join a savings group when World Vision mobilized and trained the community on financial literacy. Ramadhani is a member of Mshikamano savings and producer group. "I was ready for change because I was tired of failing my family," says Ramadhan when asked what made him quickly join the group. It was through the savings group that Ramadhan and other members were trained on agriculture diversification and agriculture as a business. The group started a joint banana demo plot with 200 banana plantlets that were supported by World Vision. World Vision also provided each farmer with twenty banana plantlets. After the first harvest Ramadhan was sure his life as farmer was taking a big turn and he was not ready to look back. He realized that bananas are reliable and profitable, both as food for his family and as a business. "When I saw the benefits of bananas, I made a decision to start expanding my farm. I currently I have seven hundred plantlets and I have dug two hundred banana holes to expand my farm,'' says a grinning Ramadhani.
Weekly, Ramadhani harvests 30 banana bunches and sells each bunch for $3, earning $100 per week. What makes Ramadhani happy is that he has food for his children throughout the year. "School fees, school uniforms and food for my family is no longer an issue these days, as well as providing medical care to my family, because I am able to pay for health insurance for the whole family,'' says Ramadhani. "I have shifted some of my children to better schools and I am sure I can support them to achieve their dream," he says. Ramadhani is not only engaged in banana production, but he also grows pigeon peas using improved seeds that produce a better harvest. This year Ramadhani has cultivated 15 acres of pigeon peas and expects about 120 bags. He is also growing Orange Flesh sweet potatoes which is a great source of nutrition for his family and has improved his family's health. "My green light is switched on and nothing can stop me. With all the knowledge I have received, nothing is impossible," says Ramadhani.