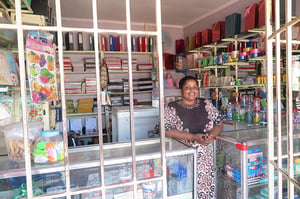 A year ago, the entire world was gripped by COVID-19 challenges. Today, many Americans are optimistic as new cases drop significantly, businesses and churches reopen, and life begins to resume. For some of us, it can feel like we're finally putting the pandemic behind us.
Not so for those in the developing world. COVID-19 continues to devastate lives and livelihoods. They're facing new variants, new waves, and renewed restrictions in hopes of containing the disease. These restrictions force businesses and farms to shutter and is threatening to push the most vulnerable back into extreme poverty. With no other choices, families are using up their cash savings to buy food and other essentials.
The World Bank estimated in January 2021 that the number of people pushed into poverty by this crisis will rise to as many as 163 million by the end of this year. These aren't just numbers. They're people Jesus loves. People like Josephine in Tanzania.
Josephine bounces back even stronger
Life was never easy for Josephine. Married with two children, things only got harder when her husband passed away. Suddenly, she was the sole provider for her family — and her deceased brother's children also turned to her for help. Josephine applied for and received a small business loan through World Vision that allowed her to open a successful stationery shop.
Then COVID-19 hit and the government announced the closing of schools. For Josephine, this was a huge blow, as she supplied schools with report books, diaries, printing, and copy services. She had to close her store and use whatever savings she had left to feed and care for her children. "This was one of the hardest and most challenging times in our lives, since I had to pay rent and to continue my repayment schedule of the loan," explains Josephine. She began to struggle with the repayment plan for her loan, but thankfully World Vision worked with her and she was able to reschedule her loan for four months until schools and offices reopened.
Today, Josephine is thriving again and able to support her large family. She's all smiles thanks to donor partners like you who ensured her business could reopen and thrive. "I am able to pay rent, school fees, top up the loan amount, and repay it," Josephine says. With her renewed success, she plans to expand her stationery business with new offerings.
Irma eyes the future once again
Resourceful? You bet. Irma is a mom of two in Honduras who runs a beauty salon and sells cosmetics thanks to a loan she received from World Vision. "Due to the COVID-19 pandemic," she says, "clients dropped by 90% given the movement restrictions." Ever resourceful, Irma changed business tactics quickly. She met clients in their homes and began offering discounts.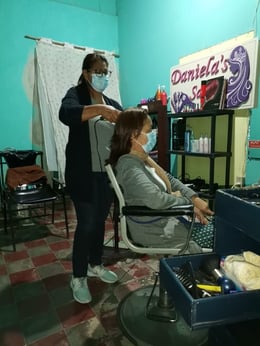 Yet Irma was in desperate need of rapid recapitalization — getting money into her businesses so that it could continue to function. Thankfully, she secured a loan from World Vision. "That new loan allowed me to acquire a new product … get [clients] to return to the premises, [and] to ensure that my children continue their studies," she says.
Now Irma plans to diversify her business by offering more products and services, and to improve her shop in order to attract a new client base. "I have many plans for the future," she says. "It has been a challenge, but I have learned to be cautious and maintain faith in God who will protect us."
Now you can play a part in success stories like Josephine's & Irma's
These women are solid proof that recovery loans work. Yet there are hardworking people just like them who are on the verge of being pushed into extreme poverty. You can help change that by supporting the Investing in Women Fund — helping to provide recovery loans to women business owners impacted by COVID-19 and natural disasters. In turn, these women provide food, clothing, shelter, education for their children, and invest in their communities.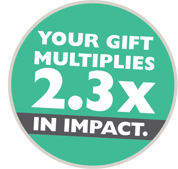 What do recovery loans look like? For Josephine, it meant restructuring her loan during a time of crisis. For Irma and others, it means securing a new loan to keep their business running.
With your backing, recovery loans will help over 700,000 people — 78% of whom will be women — per year and benefit over 2.7 million children. Because the loans are repaid about 97% of the time by these faithful people, the funds keep being used. Even better? Thanks to investments in capital markets, your gift today will multiply 2.3 times in impact to support women like Josephine and Irma with recovery loans.
The work of their hands brings them reward.
—Proverbs 12:14 (NIV)