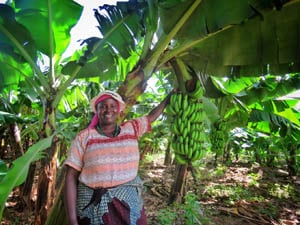 A beautiful village carpets the foot hills of Mt. Mbulu in Northern Tanzania. Water streams flow down the mountain into this attractive village. Magugu village is quiet and the streets are empty except for a few chickens running around and kids playing soccer. It's almost the rainy time of year and people are working on their farms preparing for the season.
Lucia Abel (60) is a farmer that lives in Magugu and has raised seven children on her own. She remembers when her husband abandoned her when she was three months pregnant.
"The hardest moment of my life was when my husband left me for another woman, and I had to look after my children and the pregnancy alone," says Lucia wiping her tears. Lucia became very sick and stayed in the hospital for six months. There was no one to care for her or her children. Her oldest daughter looked after her siblings while Lucia was in the hospital. When Lucia came out of the hospital, she started working in the rice fields and was paid three dollars a day. "Life was tough, we always had a single meal per day but it was all I could afford," says Lucia, her eyes fixed on the ground where she had laid a few bunches of bananas.
Lucia began raising local chickens so she could improve her children's nutrition and not depend only on ugali and beans. "My children's health started improving when I started raising chickens and I made sure they each had an egg every day. I would also sell chickens at a market and buy vegetables, which improved my children's health," says Lucia.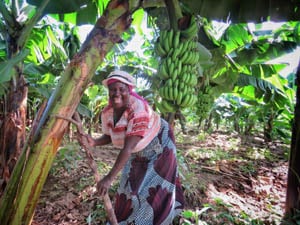 Lucia was introduced to World Vision through her savings group called Songambele. World Vision worked with the community to start savings and producer groups. They also introduced banana farming to the community for food and business. The community was trained on agricultural business and financial literacy. Lucia and her savings group participated in exposure visits to other villages that were doing banana farming. The visits were eye opening to the members of Songambele and the group decided to look for a piece of land and prepared the farm for bananas. Seeing their efforts, World Vision provided the group with banana seedlings and worked hand in hand, helping with the planting and harvesting. "The most encouraging thing for me was when World Vision worked with us on the farm… digging holes, planting, weeding, harvesting and even helping us to look for markets," says Lucia with a giggle.
Today the green slopes, streams of water and a fertile soil near Mt. Mbulu are producing hope. Through her banana farming, Lucia is able to pay collage school fees for her sons Stephan and Daudi. She has built a brick house with an iron roof and purchased two acres of land, where she farms bananas, maize, rice and beans. She now has enough food to eat and sell in the village market.