World hunger has exploded, reaching unprecedented levels. Right now, 50 million people in 45 countries are facing the threat of starvation due to conflict, rising costs, extreme weather, and the social and economic impacts of the COVID-19 pandemic.
This is a children's crisis — they make up an estimated 21 million of the 50 million people affected.
Jesus tells us that caring for our neighbors in need is the same as caring for Him: "For I was hungry and you gave me something to eat, I was thirsty and you gave me something to drink, I was a stranger and you invited me in," (Matthew 25:35, NIV). So how can we unite to care for so many as unto the Lord?
You can partner with World Vision as we launch our largest humanitarian response ever — even bigger than the size and scope of our COVID-19 response —where we aim to reach 22 million people in the 25 countries where hunger is at its worst.
Your gift will multiply 9 times in impact to provide nutritious food to hungry children and families in places like South Sudan, Somalia, Uganda, Afghanistan, and the Democratic Republic of the Congo.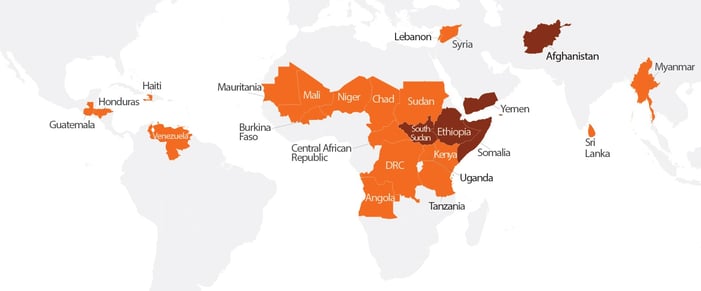 Surpassing our COVID-19 pandemic response, our global hunger crisis response will focus on these 25 countries.
She's already lost one child … she can't bear to lose another
The global hunger crisis is merciless. Abuk is a 22-year-old mother from South Sudan who couldn't give her daughter Adhel the nutritious food she needed. Abuk watched helplessly as her child's health slowly dwindled.
"My 1-year-old child, Adhel's sibling, got sick and when I took her to the hospital, the test showed she was anemic," says Abuk. "She died that day. I knew it was because of poor nutrition and lack of breast milk from me. I do not want to think of losing another baby due to hunger."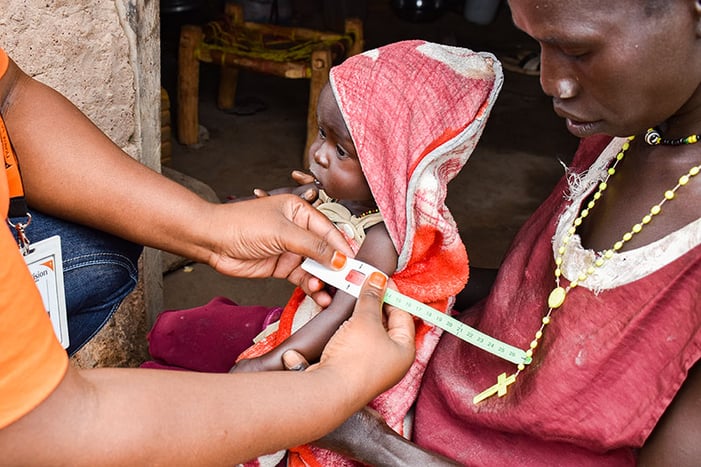 Together, we can help children like Adhel and mothers like Abuk in South Sudan with desperately needed nutrition and food aid.
PBS NewsHour recently visited South Sudan where World Vision is responding to the global hunger crisis. For more information on the situation here, take a moment to watch the segment on PBS.org.
Viola's prayers for food were answered
People in South Sudan are living through one of the worst conflicts the country has ever experienced. Many families had no choice but to flee to Uganda — host to the third-largest refugee population in the world. More than a quarter of a million South Sudanese—people like Viola — ended up in the Bidibidi settlement.
Through the grace of God and the generosity of our partners, Viola's prayers for food were answered. Right now, World Vision and the World Food Programme are working together at the settlement to provide life-saving food to those in need. Each day, staff and volunteers serve 2,000 refugees with enough nutritious food to last two months, including maize grain, beans, vegetable oil, and salt.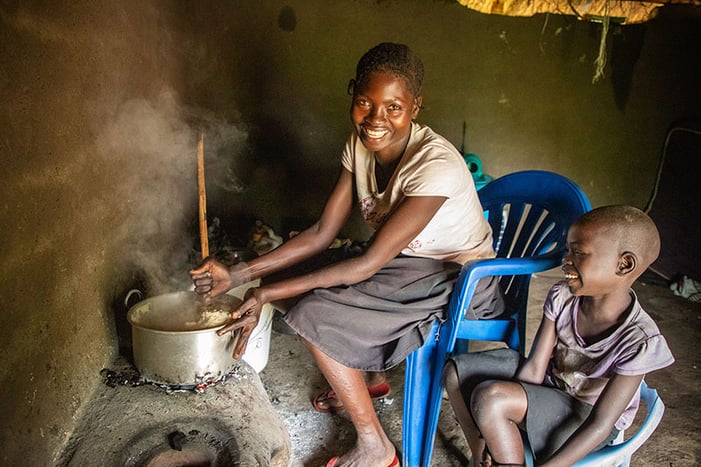 Viola and her daughter prepare a healthy meal made from the ingredients they receive through food aid.
Your gift today multiplies 9 times in impact
Together, we can help save lives on a large scale. How do we know? Because of the generosity of our donors, World Vision — in partnership with the World Food Programme — was able to reach over 12 million people (and more than half were children) in one year alone. World Vision is also a preferred partner of the United States Agency for International Development's (USAID) Bureau for Humanitarian Assistance. And over the last 10 years, 89% of the severely malnourished children we treated made a full recovery.
Thanks to public grants from partnerships like these, your gift will multiply 9 times in impact to provide nutritious food to hungry children and families. It only costs $70 to help provide a family of six with food and essentials for one month.
$210 can help provide three families with food and essentials for one month
$420 can help provide six families with food and essentials for one month
$630 can help provide nine families with food and essentials for one month
Please prayerfully consider giving today to help end the global hunger crisis and provide nutritious food to mothers who struggle to feed their children. For Abuk, for Adhel, and for Viola.