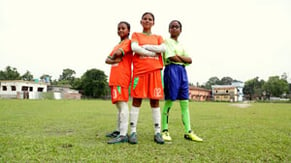 Maya (center) back on the field
"They used to say in my village, that we should not play football (soccer) because it is a boy's sport," says Maya. "But I learned that it is my right."
Maya turns 18 this year and studies in the 11th grade. She loves football and plays as a striker, the player who scores all the goals. She used to play football a lot, but she stopped playing last year, even though she had progressed from district clubs to state clubs.
Early last year when selections for the national clubs were made, she was excluded because of her caste. Some girls refused to play with her for the same reason - she belonged to a lower caste. When Maya would ask girls to play with her, they would reply, "No, people in the village talk ill about you and your shorts." Others told her, "You are from a different caste." This is when she stopped playing football and became depressed.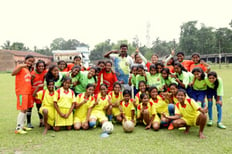 Maya's Girl Power team shares their joy and strength
Caste discrimination and weak family ties are markers that make girls vulnerable to trafficking. Society says that the girl child should not play sports. They are looked upon as burdens if they are not fulfilling their household duties at home. This creates the perfect condition for trafficking.
During this time, World Vision organized a street play on the dangers of trafficking in Maya's community. They invited girls from the community to join a Girl Power Group. "It was interesting, and I wanted to learn more, so I became a part of this group," says Maya. To her pleasant surprise, the Girl Power Groups were going to use football as a part of World Vision's Sports 4 Development Program. The Sports 4 Development Program motivates girls in rural communities to play football to help break gender stereotypes. World Vision encourages girls to become peer-based leaders, with the hope that they will champion rights of girls within their communities. Maya became a leader right away. And before she knew it, she was playing football again.
Maya used to think, "How can I change the mind of these girls? They are not free." She spoke to the mothers of some of these girls and tried to persuade them to allow their daughters to join the Girl Power Groups and to play football. "I was shamed regularly. 'You are spoiling the girls in the village,' I was told. Even my mom scolded me," she says. However, Maya was not deterred. She wanted girls to learn how to be safe from trafficking and sexual abuse. And, she wanted to wear a football jersey and play football to do so.
World Vision uses football to teach girls how to protect themselves. "Football and real life are similar. We need to build relationships with our teammates. Unsafe touches (sexual abuse) are like fouls in football. We have to solve problems in football. When in a tight spot, we have to pass the ball, which is like running away from people who can harm us and shouting for help," Maya says.
By creating Girl Power leaders like Maya, World Vision helps prevent trafficking even before it takes place. Maya knows what it is like to be treated poorly because she is a girl, and she knows how unsafe girls are in her community. With World Vision's help, she can take action: she can teach girls how to play football and how to be safe.