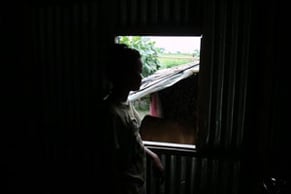 Dipa reflects out her window
Dipa is 17 years old - a tall, yet petite girl, very shy and soft-spoken. One day not so long ago, she was lost in the bustling city of Delhi. She was hurrying back to the home where she worked as a domestic servant. She was trapped in child labor, a modern form of slavery. The people who employed her asked her to go to the store to buy something - that was the day she got lost and was wandering around the streets.
Where was she? She was far removed from the tea gardens she grew up in. Her mother Sharmila, a tea laborer in the tea gardens of Jalpaiguri, would be looking for her. The family had lost a child to an illness recently. Their sadness would increase with Dipa missing, as well.
Dipa had been trafficked to Delhi. The person who trafficked her had tricked her into getting on a bus. They told Dipa that they were going for sightseeing, and that her mother had been informed. The trafficker and her husband were familiar to Dipa, so Dipa trusted them. Once they reached the town of Siliguri, through physical force and trickery, they brought Dipa to a home where they kept her for a few days. The traffickers physically assaulted her and confined her to a room. The woman trafficker then drugged her and took her to Delhi – a very long way from her home.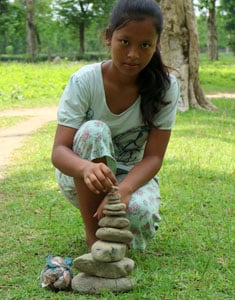 Rinki's Girl Power Group taught her how to stay safe
Rinki is in the 9th grade and is 16 years old. She is from Siliguri, about 50 kms from Dipa's hometown of Jalpaiguri. One morning she was on the way to the market with her family when Rinki noticed that a woman with a burqa trying to pacify a child with sweets. That is odd, she thought to herself, "Why would a child cry so much if she was with her mother?" As she continued to walk, she saw another woman crying and running helter-skelter - she was looking for her missing child. A bulb went off in Rinki's head and she dashed away from her family.
Rinki started following the woman in the burqa. The child was crying louder, and the woman quickened her pace. As Rinki followed her, the woman began to panic as she pulled the 5-year-old child away. At one point the child fell. Rinki shouted and all the people around her froze and watched on. The woman in the burqa ran. Rinki told the crying child, "I will take you to your mom."
When Rinki took the child to her mother, the woman got upset. "Why did you take my child," the woman asked Rinki. Rinki was shocked and did not know what to say. "No, she helped me," said the child. The mother of the child invited Rinki home, but Rinki needed to get back to her family.
Rinki reflects on the incident and is upset that when she screamed, no one came forward to help her. "If people had helped me, we could have caught that woman," she says.
These are stories of two girls, Dipa and Rinki. They are similar in age and live in the same general area. One was trafficked, while there is no chance that the other will be. Rinki is so aware of the issues of trafficking that she knows what it takes to prevent trafficking in her community. She proactively prevented a 5-year-old from kidnapping, and, possibly a trafficking situation as dire as Dipa's.
Why is there such a difference in awareness levels between Dipa and Rinki? The answer- Rinki is a part of a World Vision Girl Power Group.
Rinki's Girl Power Group is led by Maya, who is 17 years old and studies in the 11th grade. Maya describes how World Vision uses football to teach girls how to protect themselves from human trafficking and other forms of violence.
"Football and real life are similar. We need to build relationships with our teammates. Unsafe touches are like fouls in football. We solve problems in football. When in a tight spot we pass the ball, which is like running away from people who can harm us and shouting for help." The girls learned about having a circle of trust and building the team together. They protect one another and report crimes to the child helpline.
Dipa's story has a happy ending. When she was lost, someone saw her on the streets of Delhi and reported her situation to Child Helpline, India's national child protection hotline. Child Helpline and the po-lice rescued Dipa and brought her back home. World Vision is ensuring that Dipa is safe, supported, and cared for as she heals in her home village. Dipa now continues in the 7th grade. World Vision is looking at ways to increase her mother Sharmila's income, maybe by setting up a small business for her. While rehabilitation work like this is crucial, World Vision believes that it is even more critical to teach girls how to protect themselves so they are not trafficked in the first place. We can prevent girls from going through this emotional turmoil and living their life to its fullest.